By Barbra Murray, Contributing Editor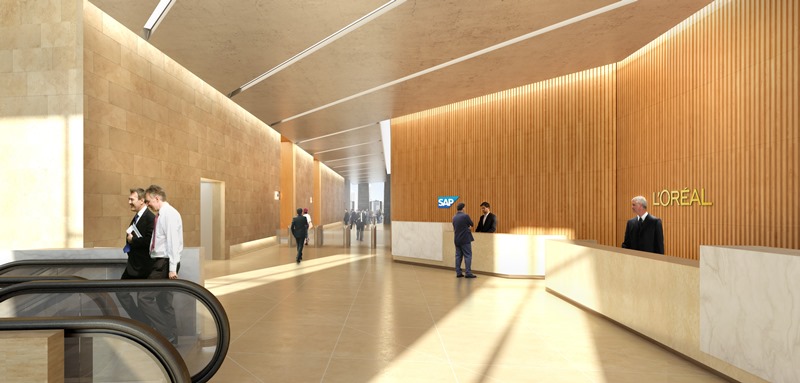 In Manhattan, the South Tower high-rise at Hudson Yards, the 13 million-square-foot mixed-use project being developed by Related Cos. and Oxford Properties Group, has just reached a total of 80 percent in occupancy commitments with two new lease agreements. Cosmetics giant L'Oréal USA and software concern SAP have signed on for a combined 517,000 square feet at the 1.7 million-square-foot building where they will share the tenant roster with luxury leather goods provider Coach Inc. 
L'Oréal has inked a lease for 402,000 square feet at the South Tower, paving the way for the company to relocate its U.S. corporate headquarters from 526 W. 34th St. to the LEED Gold-certified skyscraper at the corner of 10th Ave. and 30th St. SAP, which leased 115,000 square feet, will hold the distinction of occupying the top four floors of the 47-story building.
The new lease agreements come roughly 18 months after news emerged that Coach had acquired 740,000 square feet in the South Tower for its global corporate headquarters, taking on the role of anchor of the Kohn Pedersen Fox Associates-designed building. 
Where leading businesses go, others follow. "We are seeing a lot of diversity in companies that are interested in both purchasing and leasing space at Hudson Yards," Jay Cross, president, Related Hudson Yards, told Commercial Property Executive.
There's ample time for Related and Oxford to find new neighbors for L'Oréal, SAP and Coach at the South Tower, which will also feature ground level retail. There are more than a few selling points. "Hudson Yards offers best-in-class office space, dynamic retail and restaurants, cultural programming and over 12 acres of open space, all in one environment," Cross said. "It's an unprecedented opportunity for domestic and international brands, and there has been a very strong demand from large user for the office space."
Tutor Perini Building Corp. is onboard the project as construction manager and is on schedule to complete activity in time for the South Tower to swing open its doors to tenants in 2015. 
It takes more than chump change to develop a premier office building in New York City, let alone a 6 million-square-foot mixed-use destination. However, it appears the lending community is more than willing to get behind the endeavor, which is expected to revitalize the Hudson Yards neighborhood and bring new life to Manhattan's West Side.
Yesterday, Related and Oxford revealed that they had closed on approximately $1.4 billion in equity investments and debt financing for Hudson Yards. A group that Related and Oxford described in a press release as "prestigious consortium of investors and lenders" will finance the South Tower, the first tower in the first phase of the sprawling development. In addition to Related, Oxford and Coach, equity investors in phase one of Hudson Yards include institutional investors advised by J.P. Morgan Asset Management and a prominent sovereign wealth fund. Construction financing to the tune of $475 million is being provided by a group spearheaded by Starwood Property. Starwood will contribute $350 million and the remaining $125 million will come from the other partners, the United Brotherhood of Carpenters and Joiners and Oxford.