By Bogdan Odagescu, Associate Editor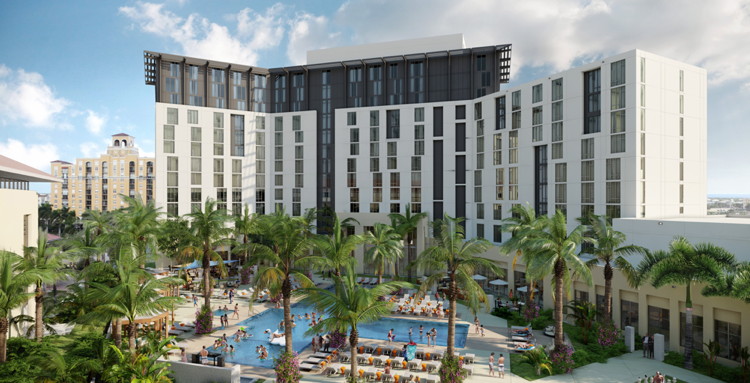 West Palm Beach, Fla.—After nearly one decade of planning and two years of construction and development, Hilton Worldwide announced the official opening of the Hilton West Palm Beach Hotel.
Located at 600 Okeechobee Blvd. and just two miles away from the Atlantic shoreline, the 12-story property is the only hotel in South Florida that is directly linked to a convention center. Through its connection to The Palm Beach County Convention Center via enclosed walkway, the Hilton offers direct access to the 100,000-square-foot exhibit hall, 22,000-square-foot ballroom, and 21,000-square-foot additional meeting space. The hotel itself boasts 24,000 square feet of meeting space and a dedicated 423-spot parking garage.
Featuring 400 guest rooms and 43 suites, the Hilton West Palm Beach is located across the street from CityPlace, a 72-acre open-air urban lifestyle center that hosts over 60 street retail shops, an open-air plaza, and many upscale food and beverage options. Open in 2000 and developed by Related Companies, CityPlace also features a 20-screen IMAX cinema, a theatre, and an office tower.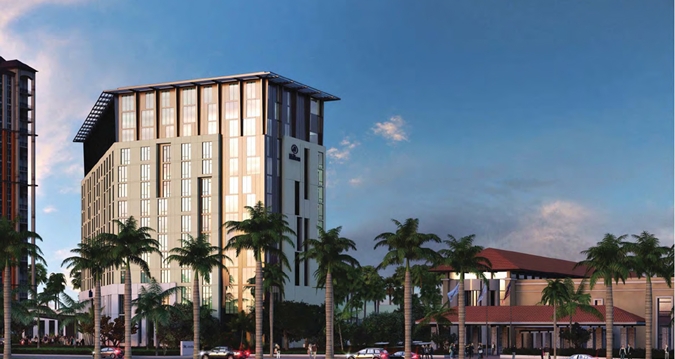 Thought out as a lifestyle destination as much as it is a convention hotel, the Hilton West Palm Beach offers upper-upscale dining run by celebrity chefs, its own curated art program, an in-house specialized department that provides team building programs, a fitness center with specialty classes, and a locally sourced marketplace.  In addition, the Kravis Center for the Performing Arts, the Norton Museum of Art and the Palm Beach Atlantic University are all located less than one mile away.
The project was developed through a collaboration of Hilton Worldwide and New York-based Related Cos. The property was designed by Florida-based architectural firm Nicholas Brosch Wurst Wolfe & Associates and Dallas-based Looney and Associates. Other names involved in the project include Coastal Construction, landscape designer Stantec, and Lubert Adler & Partners as development associates.
"With Related Companies' vision, we have programmed a world-class hotel by celebrating the incredible local talent to foster a true sense of place for the community and represent the South Florida lifestyle," declared John Parkinson, the hotel's general manager.
Images courtesy of Hilton Worldwide