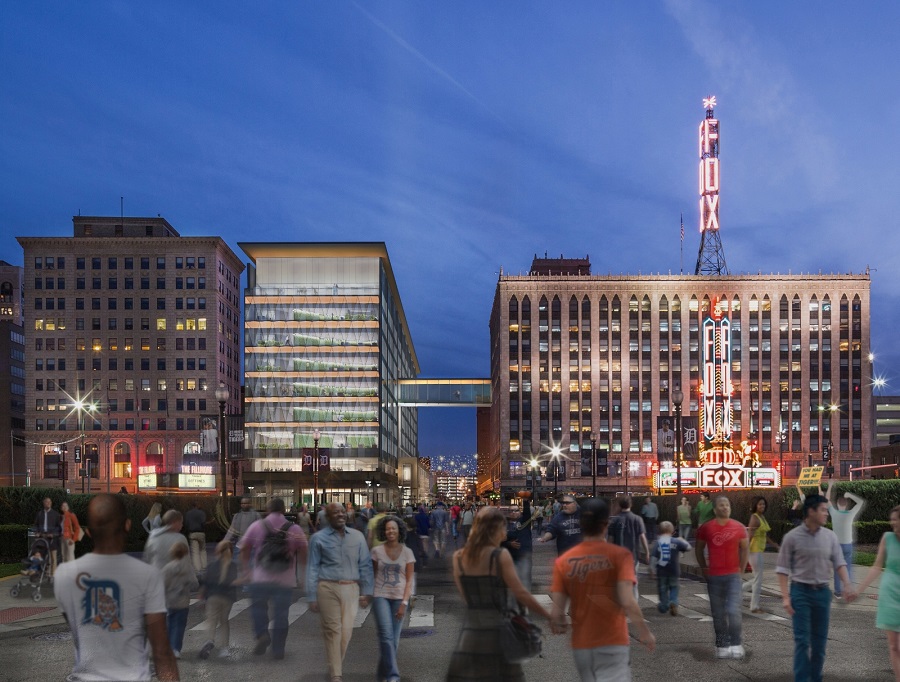 Detroit—Little Caesars and Olympia Development of Michigan broke ground on the state-of-the-art office building located at the corner of Woodward Avenue and Columbia Street in District Detroit. The new $150 million, nine-story, 234,000-square-foot Little Caesars world headquarters is more than double the size of the company's actual campus in Detroit's Fox Office Center. Construction is scheduled for completion in 2018.
Brinker-Christman and architecture firm SmithGroupJJR, both Detroit-based companies, are leading the project. This is Motor City's first office building constructed from scratch in the past 10 years and only the seventh since 1950. The project made headlines this summer with its original, 14 pizza slice-shaped windows which will be covering the tower's façade. "This remarkable building, with its one-of-a-kind architecture, will be a shining example of what's possible in our city," Christopher Ilitch, president & CEO of Ilitch Holdings Inc., said in a prepared statement.
The façade is not the only pizza-inspired element of the new building. Little Caesars' headquarters wouldn't be complete without a glass-covered, open air terrace and a "pizza garden" with vegetables and herbs. Guests might ravel on the two-story lobby connected to a Welcome Center, while employees will benefit from a screening room, 425-seat training room and a fitness center. The structure will also include state-of-the-art facilities for the instruction of franchises, crew and employees, innovative kitchens, but also retail and dining options.
The modern Little Caesars headquarters is part of District Detroit, a revival initiative in the city, comprising 50 blocks of prosperous businesses and entertainment projects, including the Little Caesars Arena. Michael and Marian Ilitch founded Little Caesars in 1959 and grew the company from a single storefront into the world's largest carryout pizza chain.
Image courtesy of Little Caesars Global Resource.