By IvyLee Rosario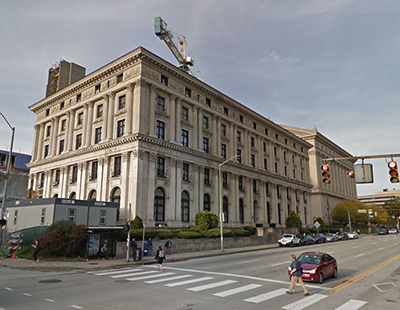 Lionstone Investments and Walnut Capital have acquired the Pittsburgh Athletic Association clubhouse, located at the intersection of Fifth Avenue and Bigelow Boulevard, within Pittsburgh's new Oakland Innovation District. The asset is adjacent to the University of Pittsburgh's Cathedral of Learning, UPMC's Hospitals and Research Campus, and Carnegie Mellon University.
"The building's prime location at the heart of Pittsburgh's university and medical markets, its historical significance, and the area's high demand for real estate made this an appealing investment," said Dan Dubrowski, co-founder & head of Capital Formation for Lionstone Investments, in a prepared statement.
Giving the asset new life
The five-story property sits on a three-quarter-acre site and was used as the clubhouse for the Pittsburgh Athletic Association (PAA), which was founded in 1908. The building was designed by Architect Benno Janssen in 1911, inspired by Renaissance Venetian palazzo architecture. Added to the U.S. National Register of Historic Places in 1978, the clubhouse offered a bowling alley, third-floor swimming pool and basketball and squash courts. The building was later shut down due to the decline of its membership.
The new owners have plans for a complete restoration of the exterior facade, as well as interior renovations and upgrades. Once completed, the new building will feature 90,000 square feet of office space, restaurant and dining options, a clubroom reserved for the PAA, an upgraded lobby and a new fitness center. Renovations are scheduled to begin late this summer and will take anywhere from 18 to 24 months to complete.
HFF's Senior Managing Director Mark Popovich led the team that brokered the sale on behalf of PAA, as part of its Chapter 11 Bankruptcy reorganization. Last month, Popovich led the team that arranged the $90 million refinancing for Zenith Ridge Corporate Campus, a three-building, Class A office campus totaling 486,000 square feet, located in the Pittsburgh suburb of Canonsburg, Pa.
Image via Google Street View