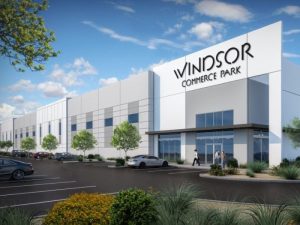 LPC Desert West, the Southwest arm of the Dallas-based Lincoln Property Co., has purchased an 86-acre site in North Las Vegas for the development of Windsor Commerce Park, an eight-building 1.6 million-square-foot Class A industrial park.
The project represents the company's first ground-up industrial development in Nevada. It is slated to break ground in the first quarter of 2023 and come online at the end of 2024.
The developer plans to construct all eight buildings, designed by architect Lee & Sakura, in one phase. Named after the adjacent Windsor Park residential community, the project is expected to bring more than 1,500 new jobs to the area.
Located on the northeast corner of Carey Avenue and Simmons Street, the development will be across the street from North Las Vegas Airport. Upon completion, the project will total nearly 1.6 million square feet and its buildings will range from 397,440 square feet to 49,920 square feet. All buildings will feature up to 36-foot clear height, 24-foot glass entries as well as touchless technology.
LPC already owns and operates 4.5 million square feet of industrial space in Nevada. The same division plans to develop the $515 million, 2.3 million-square-foot industrial megaproject Luke Field. Earlier this year in May, LPC Desert West acquired 140 acres of land in Glendale, Ariz., for the new development, for $53 million.