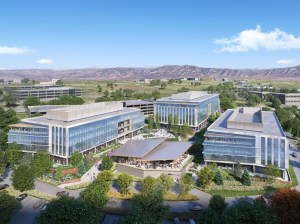 Lincoln Property Co. and real estate investment company FCP are in the process of bringing a premier speculative project to a suburban Denver market that is hungry for life science accommodations. The partners have commenced development of Colorado Research Exchange, or CoRE, a 450,000-square-foot campus in Broomfield, Colo.
CoRE will be built on an approximately 10-acre site at 235 Interlocken Blvd., just a stone's throw from Interstate 36. The property's location in Broomfield means it sits in a prime spot practically equidistant between Denver and Boulder and is home to a highly educated workforce. According to Broomfield County records, the site traded to an entity of the Lincoln-FCP partnership in January, in a transaction valued at just over $11.3 million.
"Despite what it might look like from viewing an aerial, there are limited high-quality development sites in the area suitable for what this project requires," Scott Caldwell, senior vice president with Lincoln Property Co., told Commercial Property Executive.
"We were fortunate to develop a relationship over the years with the seller of this terrific site in such an established business park, located in a business-friendly municipality like the City of Broomfield. Location is obviously an extremely important criterion for any development but finding well-located sites that have visibility and the access to quality rooftops and employees is key."
---
READ ALSO: Adaptive Reuse or New Construction?
---
HKS Architects is behind the design of CoRE, which will feature four low-rise buildings linked by a mass of green space. Three of the structures will each encompass roughly 110,000 to 200,000 square feet of life science space that will address users' laboratory, research & development and light manufacturing needs, as well as office requirements. The fourth building will be a nearly 16,000-square-foot amenity center providing such coveted offerings as a fitness facility, locker rooms, bike storage, a tenant lounge with fireplace, an outdoor terrace, a conference/training facility and a food market.
In a market beset by older industrial and converted office options, the list of extras at CoRE will render the campus a veritable novelty in the area. Construction activity is scheduled to commence in the fall of 2022.
Catering to a burgeoning hub
Metropolitan Denver is moving up on the radar in the life science sector and is now widely considered an emerging cluster. "Markets such as Denver/Boulder have substantial life science pedigree and are ripe for expansion—the cluster is home to a high concentration of federal laboratories and research institutions as well as top research universities that supply the area with STEM graduates," according to a year-end 2021 report by Newmark.
While 585,000 square feet of space was under renovation at the close of 2021 in the Denver/Boulder market, approximately 50 percent of that space will not be ready for lease until 2024 or later, which does little to address the more than 1.4 million square feet of existing demand in the area.
Lincoln and FCP plan to target companies that operate in the laboratory, life science and technology arenas as tenants for CoRE. Lincoln will join CBRE's Chris Phenicie, Erik Abrahamson and Blake Harris to market and lease the project, which is on track to reach completion in early 2024.