October 19, 2010
By Barbra Murray, Contributing Editor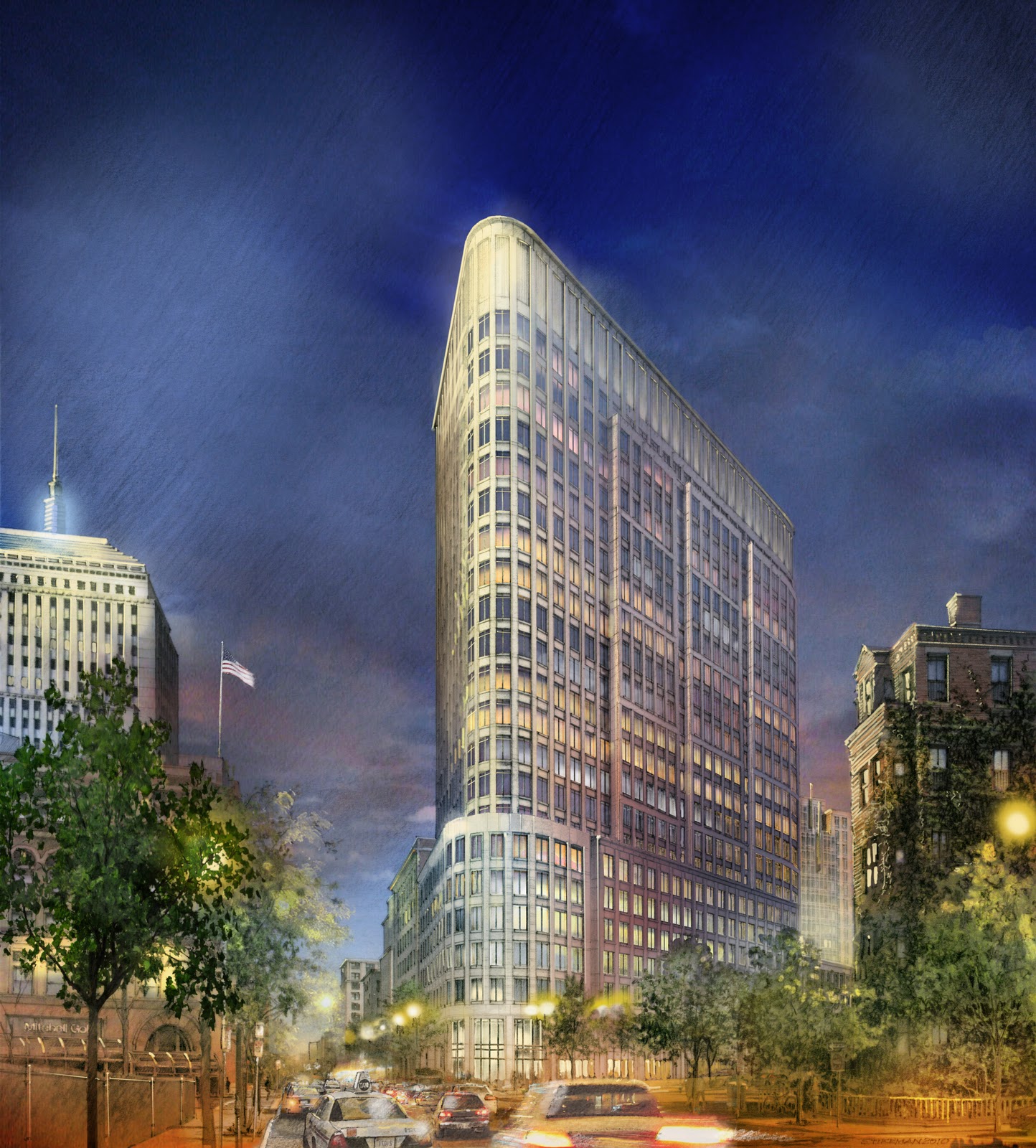 Since the real estate market came tumbling down in 2008, few cities have been able to look forward to the jobs, revenue and revitalization that can accompany the development of a big new office property, but Boston is the latest exception. Liberty Mutual Group broke ground Monday on a $300 million office building, a global headquarters expansion project that will encompass 390,000 square feet and result in approximately 1,100 temporary and full-time positions.
The new 22-story building will rise in the coveted Back Bay area of downtown Boston at 157 Berkeley Street, adjacent to Liberty Mutual's corporate office campus at 175 Berkeley Street. The site is the former home of a Salvation Army building and the Benjamin Franklin Smith Building, both of which Liberty Mutual acquired in 2009 after having evaluated other cities across the United States for its expansion.
Turner Construction is on the ground, spearheading building activity, which will also include the upgrade of nearly 90,000 square feet of space in a 105,000-square-foot Stuart Street building at the existing Liberty Mutual headquarters campus. Turner is no stranger to Liberty Mutual development endeavors in New England, having provided pre-construction and construction management services for the insurer's 80,000-square-foot office building in Weston, Massachusetts. Colliers Meredith & Grew is serving as development manger, and CBT Arhcitects/Childs Bertman Tseckares Inc. is behind the design of the property, which will meet the requisite standards for U.S. Green Building Council LEED Silver certification, and consume 20 percent less energy than the average large modern office facility.
By developing its own office building to accommodate company expansion, Liberty Mutual is not impacting the Boston office market in terms of vacancies or absorption. Downtown Boston's average vacancy rate for Class A office space in the third quarter was 11 percent, a figure that marks an increase from the second quarter vacancy rate of 10.7 percent, according to reports by real estate services firm NAI Hunneman Commercial. With just over 5 million square feet of premier space available for direct lease downtown, might Boston's office market have benefited from Liberty Mutual opting to lease–instead of build–nearly 600,000 square feet of square footage?
"There are many large blocks of Class A office space available, but in many cases, they are not in the desired location," Jeffrey B. Becker, senior vice president with NAI Hunneman, told CPE. "Downtown, there are two different main markets–Back Bay and the Financial District. There have been times when we have had blocks of space this large, but in terms of Back Bay, no."
While commencement of construction of Liberty Mutual's massive office project has no statistical impact on Boston's office market, it will affect the city's economy. The development endeavor will create 500 construction jobs and, ultimately, add 600 full-time positions within the walls of the new building. It will also result in a total of $82 million in new real estate tax revenue for Boston over a 20-year period. And, the development will push Liberty Mutual closer toward the top of the list of the city's largest private taxpayers, as the company will shell out an estimated annual sum of approximately $13 million in real estate taxes on its bevy of Boston properties.
Additionally, Boston mayor Thomas M. Menino noted that the building will revitalize the surrounding public realm with new public open space and streetscape improvements. There is always an upside, and in the best of scenarios, more than one.
Construction of the new Liberty Mutual office tower is on track to wrap up in late 2012.