May 21, 2010
By Paul Rosta, Senior Editor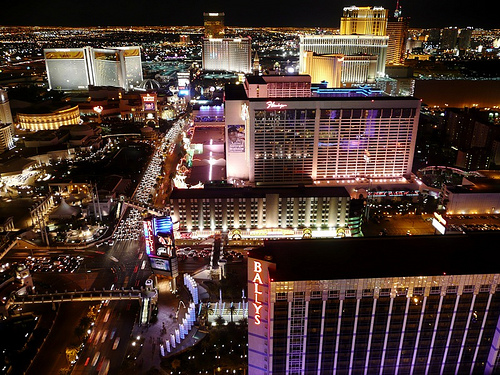 At first glance, this year's RECon, the International Council of Shopping Centers' annual spring convention, might look familiar to the legions heading to Las Vegas this weekend.
As always, thousands of real estate professionals will dash through the massive exhibit halls of the Las Vegas Convention Center, trying to squeeze in as many dealmaking meetings as they can from Sunday through Tuesday. About 1,000 exhibitors will spread out among those halls, taking up 750,000 square feet of exhibit space. And dozens of educational sessions and panel discussions are once again on the agenda, as is a speech by a famous public figure; this year, Sarah Palin is on tap to deliver the marquee address on Sunday afternoon.
But just like every other corner of the industry, the Super Bowl of real estate events has been reshaped by recent events. The recession trimmed turnout from a record 50,000 in 2007 to 30,000 last year. As of Thursday, this year's attendance was on track to run slightly ahead of last year's, an ICSC spokesperson reported.
Among other moves, ICSC has adapted by condensing the old four-day schedule into three. ICSC is attempting to increase the show's appeal to prospective exhibitors in hard times by offering a pre-packaged "booth-in-a-box" option. Introduced last year, the no-frills booths provide an alternative to the elaborate displays favored by many exhibitors.
Once again, an industry giant or two—namely Simon Property Group Inc.—will be conspicuously absent from the RECon exhibit floor, as it has been for several years. But fresh faces are arriving, too. Notable newcomers this year include a battery of city and county economic development agencies, some 10 to 15 of which are first-time exhibitors, the spokesperson said.
Amid a series of encouraging signs for the retail sector, the morale of the dealmakers headed to the convention appears to be on the rise. "At least for my people, this is a significantly improved year," reported Ron Reese, senior vice president and managing director for NorthMarq Capital. "Last year, if we had had the same conversation, I would have told you that I had no reason to go."
A main reason for Reese's more upbeat view is the change in NorthMarq's main capital sources, which include life insurance companies and other institutional players. They are finally ready to get back in the game and are seeking opportunities, he explained.
After several years of decline, the size of delegations to RECon appears to be holding steady, and, in some cases increasing modestly. Reese said that NorthMarq is sending a bigger crew to Las Vegas than it did last year. So is Faris Lee Investments, an Irvine, Calif.-based retail transaction specialist, which will send roughly 20 percent more personnel to RECon than it did in 2009. Joining the customary team from California will be several people from Faris Lee's recently opened Manhattan office. That will bring the firm's total delegation to 20-plus, explained Rich Walter, the company's president.
The untold thousands of meetings that are RECon's signature will also reflect an economy and a retail sector in transition. "We have a lot of meetings this year all across the board," Walter noted. A wide variety of developers, lenders and investors are on Faris Lee's RECon appointment calendar this year. Capital sources, for example, are scoping out opportunities to finance retail acquisitions at attractive prices. Another sign of the times is a notable number of meetings with special servicers, who are seeking help with valuation and disposition of troubled properties, Walter added.