CRE Diversity Seen as Lagging: Owler
Real estate, along with construction, ranks last on this year's study, which scores U.S. industries and companies by employee perceptions of leadership diversity. The findings suggest that real estate has room for improvement on this front, despite some progress in recent years.
By Roxana Baiceanu
For several years, commercial real estate and most other industries have started to pay more attention to inclusionary and diversity policies encouraging women and people of various races and ethnicities to become a part of what was traditionally considered the province of white males. A recent national study suggests, however, that real estate continues to lag other industries in perceived diversity from the executive suite on down.
The 2017 Owler study surveyed its community of 1.5 million people, asking them to rate the degree of diversity of the leadership teams within the companies they work for. The top-rated organizations include well-known names, several of them from the tech field: Reltio, Nextiva and Omnex. However, when asked to rank the industries, it was retail, not tech, that came first, while real estate and construction came last.
The researchers point out that the study may be based on perceptions, not necessarily actual HR data. However, they emphasize that 'how both frontline workers and the general public perceive changes on the ground' often influence impressions more than statistics. The study also mentions that a fixed meaning of the word "diversity" was not imposed on survey-takers. In other words, they were free to consider only the race factor, the gender or ethnicity.
The list below gives an overview of all industries and their diversity scores: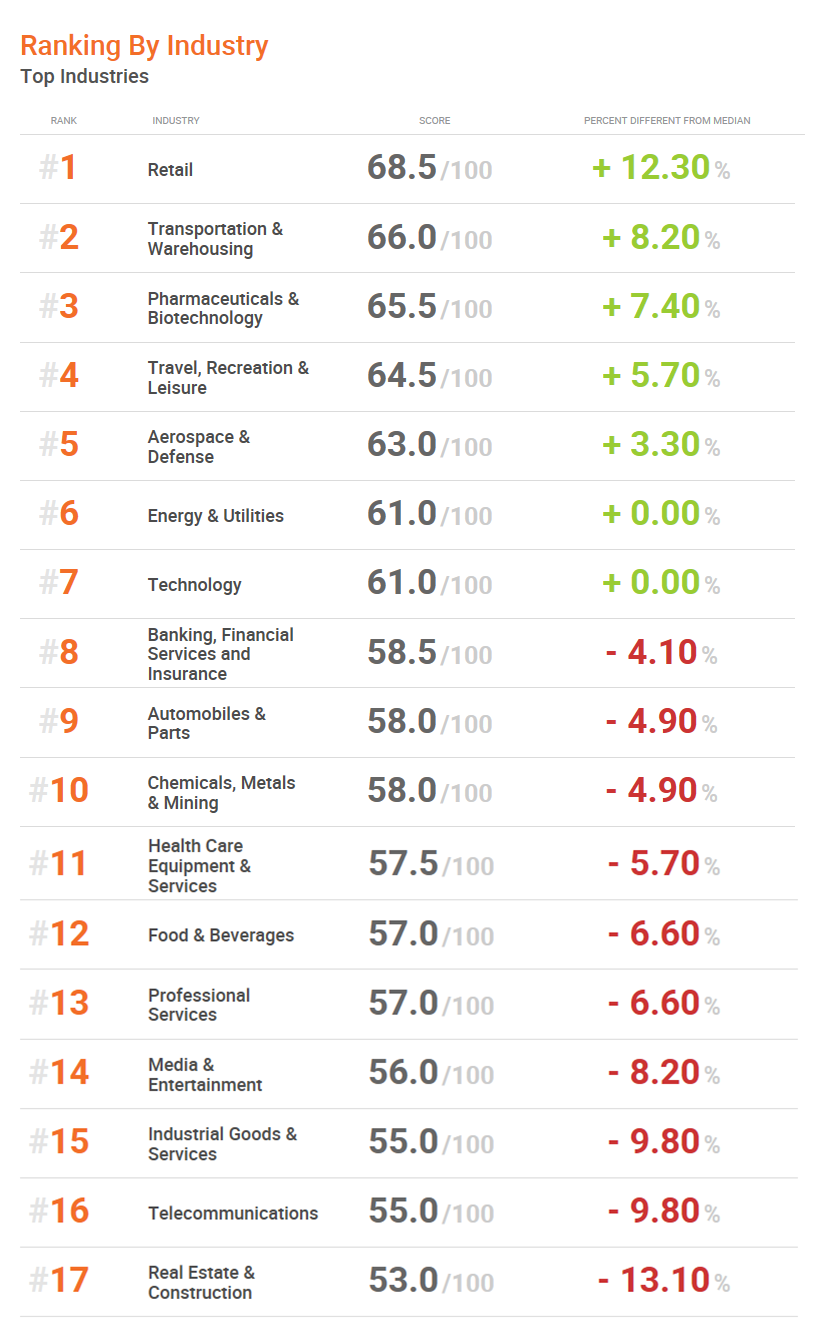 In addition to ranking the companies and industries, the Owler study also looked at how inclusionary private and public companies are at the C-level. Results show that contrary to what may be expected, private companies are perceived as being more diverse than public ones. As far as diversity by region, the South ranked at the top, followed by the Midwest, the West and the Northeast.
Find out the full 2017 Owler report findings. 
Ranking diversity in real estate 
As far as real estate companies are concerned, the most inclusive ones are perceived to be Newmark Knight Frank (#28), Redfin (#44) and Keller Williams (#49), according to Owler survey respondents. The fact that commercial real estate brokerage companies outpaced the residential ones is somewhat surprising as generally speaking, the latter tend to employ more women and minorities to address the needs of their diverse clients.
As shown on its website, NKF has three women part of its corporate management team. Owler considers this to be a realistic goal among commercial real estate companies. Other companies such as Cushman & Wakefield have no women employed in executive positions at the global leadership level. 
Why diversity matters 
The real estate and construction industry, especially the commercial sector, has never ranked high when it comes to human capital diversity. In 2005, The Real Estate Executive Council estimated that minorities represented less than one percent of the professionals employed in this field. Until recently, the main explanation given by companies was that they couldn't find highly-qualified people belonging to this group and that businesses in general should not get too much into the social issue. 
But studies such as those published by McKinsey & Co. have repeatedly highlighted that the social diversity aspect should not be overlooked. In fact, when applied right, it is proven to enlarge a company's strategic perspective and contribute to its overall long-term success. Moreover, having a more diverse leadership team can, in turn, cast wider nets for attracting the best employees. 
It is known that in real estate, the client demographics has been changing at a fast pace. An increasing number of property investors come from countries such as Iran, Syria, China or Japan and the success of negotiations may often depend on understanding the other party's cultural background. Some clients tend to be more responsive when working with people who are of the same ethnicity, as they can help them overcome cultural barriers.
When it comes to women and their ascension to leadership positions within the real estate and construction industry, researchers found that the main impending factor is not the lack of proper qualification, but parenthood. Many companies acknowledge women's skills, motivation and overall high performance in the workplace, but feel that in a competitive field such as real estate, the need for maternity leave may be detrimental for their overall business success. The argument has already been disputed by the availability of supportive measures, such as providing a more flexible working schedule or daycare services at a location close to the firm's office. 
Studies such as those created by Owler and McKinsey show that the success of a company depends not only on employee performance and innovation, but on how well it is prepared to adapt to a variety of factors such as workplace diversity and employee need for professional and social support programs.  
Images courtesy of Owler and rawpixel.com