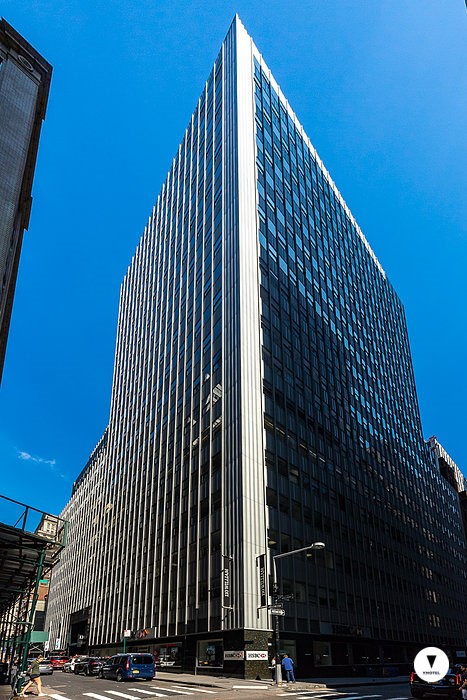 Knotel has signed an 80,650-square-foot lease at 110 William Street in New York City's downtown. A partnership of Savanna and KBS Capital Advisors owns the 928,000-square-foot office tower. The popular flexible office space provider took the entire seventh and eighth floors. It already occupied the full 17th floor in the 32-story building, having signed a 35,848 square-foot lease in August 2018, and now has three full floors.
"Knotel is growing rapidly throughout lower Manhattan. When the additional floors in 110 William became available, it was a good fit because of the demand we already have in the building as well as client interest in increasingly larger spaces," Eugene Lee, Knotel Enterprises' chief investment officer, told Commercial Property Executive.
Originally built in 1918 as a 15-story property, the building reached its current height after an expansion in 1959. KBS acquired 110 William Street in 2014 and the company made huge improvements, getting it fit for modern office use. Those capital improvements included adding a new lobby, bathrooms and corridors and a facade renovation.
Offering increased flexibility
Knotel designs, builds and operates custom spaces internationally for companies of 50 employees or more and has roughly 200 companies utilizing its space. The firm's portfolio includes concentrations of spaces in busy submarkets in major cities.
"Flexible office options in good buildings are in great demand and property owners are recognizing the value we're able to deliver," Lee added.
Newmark Knight Frank's Greg DiGioia and Michael Morris represented Knotel in the transaction, while Hal Stein, Todd Stracci and Travis Wilson of the same brokerage company worked on behalf of the ownership.
This is not the only recent expansion for Knotel. In March, the company added two new locations in New York City on the Eighth Avenue corridor in Midtown Manhattan. The workspace provider signed two new leases totaling nearly 20,000 square feet less than a month after it took 39,000 square feet in another building in the area.