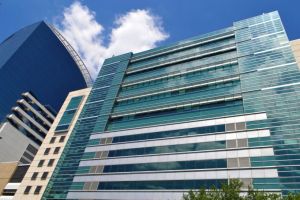 KKR and Cornerstone Cos. Inc. are combining their strengths to become a powerhouse in the health-care real estate ownership arena. The companies have formed a new joint venture to acquire and develop diversified health-care assets in the U.S., and within just a few years, the partners expect to have purchased in excess of $1 billion in properties.
The joint venture, which materialized with Newmark's Healthcare Capital Markets Group acting as adviser to both parties, has gotten off the ground with a seed portfolio of 25 of Cornerstone's health-care properties.
---
READ ALSO: Brookfield, King Street Form $1.5B Partnership
---
KKR and Cornerstone recapitalized the approximately 713,700-square-foot collection of medical office buildings and ambulatory surgery centers, which span 12 states and boast long-term leases. Cornerstone did not disclose just which 25 properties from its portfolio seeded the joint venture; however, the company's latest acquisition involved the $48.7 million purchase of a 12-asset group of MOBs totaling 155,000 square feet across nine states via Cornerstone Fund VI in July 2021.
KKR and Cornerstone, both of which have made funding commitments to the joint venture, plan to expand upon the seed portfolio with the acquisition and development of predominantly long-term leased single-tenant MOBs, ambulatory surgery centers and facility-based outpatient health-care properties.
Cornerstone brings to the table more than 35 years of developing, managing and leasing a variety of health-care real estate. For its part, KKR is no stranger to the health-care industry, as the global investment firm has been putting funds in health-care sub-sectors for decades, with such deals as the $150 million investment in the former Sentio Healthcare Properties. And since 2014, KKR has closed several notable transactions as part its Health Care Strategic Growth strategy, including the creation of mental health services company Geode Health in June 2021.
Finger on the pulse
The COVID-19 health crisis changed health care in the U.S. and many of those changes may have a lasting impact that will ultimately alter the health-care real estate sector. KKR and Cornerstone's decision to partner on the buying and building of MOBs and other health-care facilities appears to be a timely one.
"The expansion of virtual care out of necessity led to greater patient access during the pandemic. Greater patient access will increase the relative demand for health care over time and drive additional real estate demand," according to a midyear report by JLL.
In 2021 year-to-date, 49 percent of physicians reported working more hours than in 2020, citing telehealth as one of several reasons. Additionally, industry estimates indicate that total patient volume will increase by nearly 20 percent by 2030, according to the report.
Newmark represented Cornerstone on the recapitalization transaction, while CBRE's Healthcare and Life Sciences Capital Markets Group advised KKR. Newmark also advised KKR on debt financing.