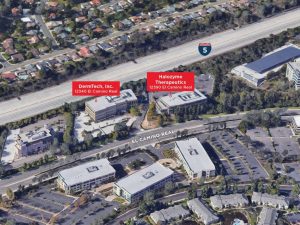 Halozyme Therapeutics, a biopharmaceutical company, has signed a new lease, totaling 72,500 square feet at Del Mar Corporate Centre, a Class A office campus in San Diego. The company plans to relocate its headquarters at the facility, from its current Sorrento Valley location. Kilroy Realty Corp. is the owner of the property. Cushman & Wakefield's San Diego office represented the tenant in the transaction.
Halozyme will occupy Del Mar Corporate Centre I, which is located at 12390 El Camino Real, next to Interstate 5. Numerous retail options, including Piazza Carmel and Pavilions, are less than a mile from the campus. Kilroy's One Paseo shopping center is within a mile of the property as well.
Del Mar Corporate Centre consists of three buildings, built between 2000 and 2003 and encompasses almost 377,549 square feet of office space with outdoor lounges, a common area, a fitness center and floorplates that vary from 25,053 square feet to 35,316 square feet.
Tandem Diabetes Care, Evofem Biosciences and DermTech, among others, are on the tenant roster. DermTech initially signed a 95,997-square-foot lease last year, but it is expanding the company's headquarters with a new lease of 110,000 square feet. Both Halozyme and DermTech are scheduled to take occupancy by the end of 2022. Executive Managing Director David Odmark of Cushman & Wakefield worked on both transactions.
Last year, Kilroy Realty broke ground on the second phase of the $940 million Kilroy Oyster Point, a 3 million-square-foot life science development in San Francisco.