By Keith Loria, Contributing Editor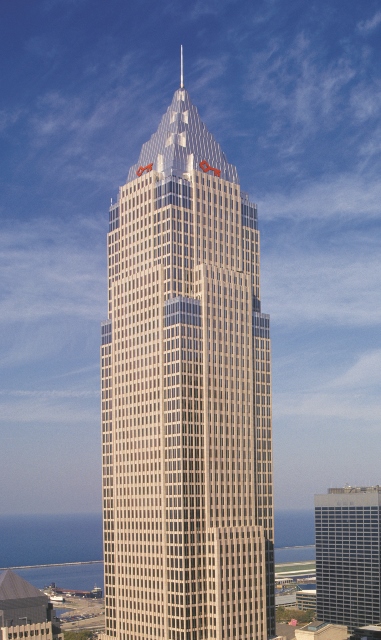 KeyCorp has extended its occupancy of approximately 487,000 square feet at the company's namesake corporate headquarters at Key Tower in Cleveland, Ohio.
Columbia Property Trust has owned the iconic, 57-story, Class A office tower and attached 10‑story historic building since December 2005. The 1.3-million-square-foot property has served as KeyCorp's headquarters since the tower's construction in 1991.
"KeyBank is the anchor tenant in Key Tower, a building that is named after the firm as part of the original development," Kevin Hoover, Columbia Property Trust's senior vice president real estate transactions, told Commercial Property Executive. "The renewal signifies KeyBank's long-term commitment to the building, the City of Cleveland, and the overall Northeast Ohio region, and it reflects Columbia Property Trust's commitment to finding long-term solutions for our valued tenant partners, which is an integral part of our plan to drive value for our investors."
The lease extension commences July 1, 2015, and extends through June 2030. Terms were not disclosed.
"A primary component of the deal was Columbia Property Trust's continued focus on operational efficiency and reducing the environmental impacts associated with the largest commercial office project in greater Cleveland," Hoover said. "These efforts have been recognized with both an ENERGY STAR certification and a Gold designation in the LEED EBOM category. Sustainability continues to be a strategic goal for both Columbia Property Trust and KeyBank."
Part of a larger complex known as Key Center, Key Tower integrates a modern 57-story office tower with the splendidly restored, century-old Society for Savings Building, and the adjacent 400-room, convention-caliber Marriott Hotel.
According to Hoover, other amenities within the complex include the Club at Key Center, a prestigious private fitness and dining facility operated by Club Corp of America, a 900-car heated underground parking garage, valet parking available through the Marriott, a conference center with advanced presentation technology, and a concierge service in the lobby along with a newsstand and Starbuck's.
The building's conference facility consists of three meeting rooms; a board room, a tiered amphitheater and a multi-purpose room. Rooms may be reserved in conjunction with one another or separately and separate staging for food is available for each room.
"Key Center is at the heart of downtown directly located on Public Square, an area undergoing a transformative renaissance," Hoover added. "The city is committed to the renovation and enhancement of the area by creating a more park-like setting. In addition, Key Center is adjacent to Memorial Park offering a beautiful resting area and the historic Fountain of Eternal Life, also known as the War Memorial Fountain. The fountain was designed by Marshall Fredericks and is a tribute to citizens that served in World War II."
Key Center is also located directly across the street from the new Global Center for Health Innovation and Convention Center. The Global Center for Health is the first permanent showroom for medical, surgical and hospital goods in the U.S.
Key Tower is one of the tallest buildings between New York and Chicago and was designed by Cesar Pelli and Peter van Dijk. It is the 18th tallest in the U.S. and 55th tallest in the world.