By Keith Loria, Contributing Editor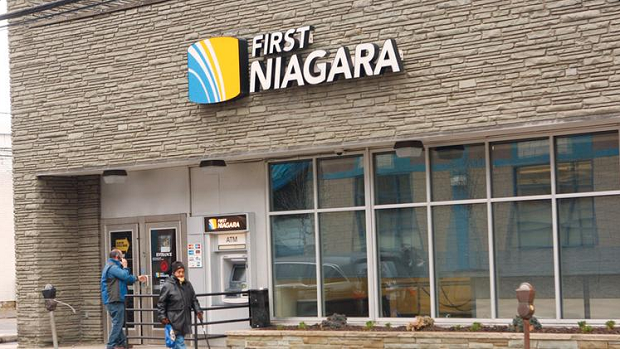 KeyCorp will acquire First Niagara in a cash and stock transaction valued at approximately $4.1 billion, making the parent of KeyBank the 13th largest bank in the U.S.
A spokesperson for KeyBank Real Estate Capital told CPE that the pairing of KeyBank and First Niagara are a powerful combination.
"We've known and respected each other for decades and now we are joining forces to become one of the largest commercial banks in the U.S.," he said. " Our organizations believe that employees are our greatest asset and the source of our strength.  And, we are excited to bring together teams that share the same focus on clients and a passion for delivering the right banking solution."
The deal includes $39 billion in assets and $29 billion in deposits and 394 branches in New York, Pennsylvania, Connecticut and Massachusetts, making KeyCorp a leading bank in Upstate New York, with a strong market presence in Buffalo, Albany, Syracuse and Rochester.
"Key and First Niagara are a powerful combination, driven by a shared commitment to the clients and to the communities we serve," Beth Mooney, KeyCorp's chairman & CEO, said in a prepared statement. "This transformational opportunity will bring compelling and complementary capabilities to our shared three-million clients, while driving meaningful synergies and enhancing shareholder value."
The acquisition enables KeyCorp to now serve three million clients across diverse markets in the Northeast, Mid-Atlantic, Midwest and Pacific Northwest. Overall, KeyCorp now has nearly $135 billion in assets.
It also diversifies KeyCorp's loan portfolio, strengthens its core retail deposit franchise and provides expanded scale. Once the sale is finalized, the company will have $99.8 billion in deposits, $83.6 billion in loans and 1,366 branches across 15 states.
"I am confident that the combination of First Niagara and Key will benefit our shareholders, customers and the communities we serve and will build off the great progress that the First Niagara team has made," Nathaniel D. Woodson, First Niagara's chairman of the board of directors, said in a prepared statement. "We believe that this partnership provides significant value for our shareholders and allows them to participate in the upside potential of the combined Key and First Niagara."
According to Mooney, First Niagara has strengths that Key doesn't, such as being advanced with offering and underwriting first mortgages, and it has an insurance brokerage, which Key doesn't.
"The acquisition of First Niagara by Key Bank continues the consolidation of financing opportunities for commercial property owners and developers. While Senator Schumer is reportedly concerned about the inevitable job losses due to the synergies of the merger, the significant impact will be determined by Key Bank's strategy," Richard Morris, a banking partner at Herrick, Feinstein LLP, told Commercial Property Executive. "If Key Bank will continue the First Niagara lending policies and strategies, then the merger will have a positive impact as a bank with more capital should lead to more lending in the New York market. However, if Key Bank's credit policies are not in line with First Niagara's current customer/borrower profile, then the commercial property owners and developers will need to quickly find an acceptable alternative."
KeyCorp expects the acquisition to be accretive to earnings per share in 2017, excluding one-time charges, and expects the transaction to deliver an attractive Internal Rate of Return of approximately 15 percent.
Picture courtesy of Buffalo News.