By Gail Kalinoski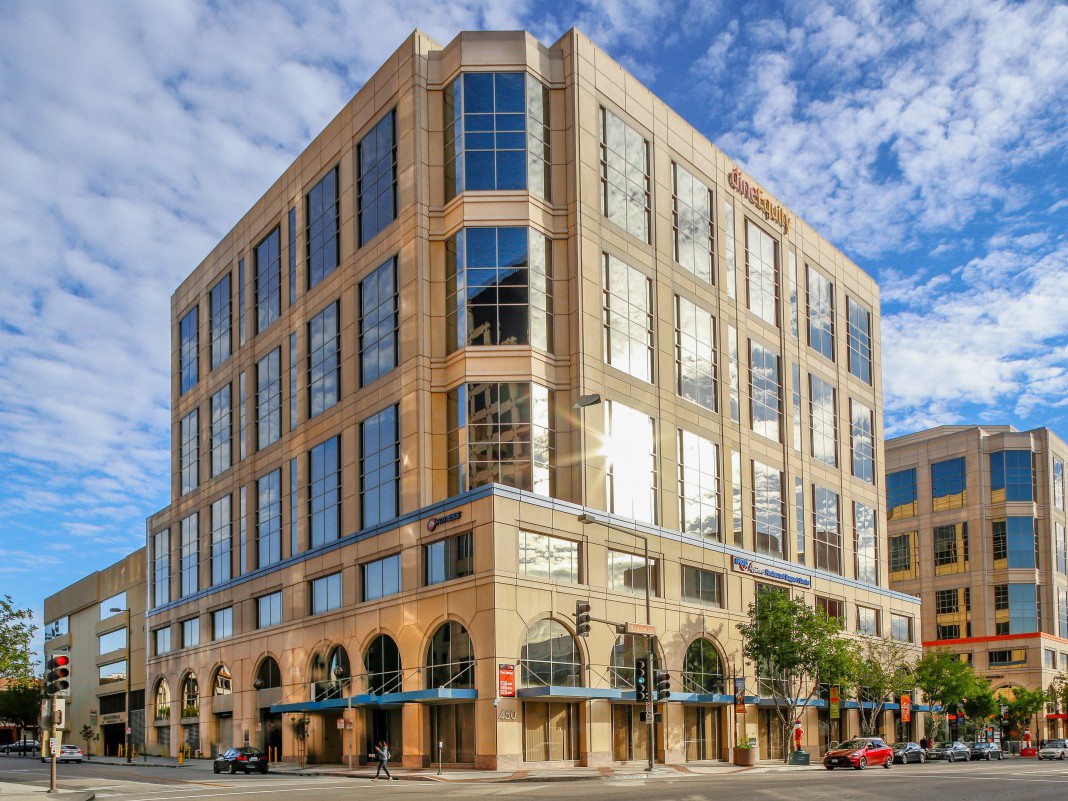 Kennedy Wilson Real Estate Fund V has acquired 400 and 450 N. Brand Blvd., a two-building, 437,000-square-foot office campus in Glendale, Calif., for $144 million. The transaction was paid for with $50 million in equity from Fund V and a five-year interest-only loan of $94 million.
JLL's Executive Vice President Tom Bohlinger and Senior Vice President Jon Lange represented the seller, a venture of MetLife Inc. and Beacon Capital Partners, as well as the buyer. JLL's Managing Director Brian Halpern and Senior Associate Alex Kane led the team on the financing.
The Class A property is 88 percent leased to 21 tenants including Cigna, also serving as the headquarters for DineEquity and Learner's Digest International.
"Brand offers both a strong initial yield and attractive asset management opportunities within an area that continues to expand, driven by a large growth in urban housing and a strong presence of entertainment and other large corporations," Nicholas Colonna, president of commercial investments and fund management at Kennedy Wilson, said in a prepared statement.
Glendale is home to major corporate and entertainment firms including Walt Disney Imagineering, Whole Foods, Marvel Animation, Dreamworks and Legal Zoom. The Brand is located minutes from The Americana and Glendale Galleria, which offer 2.5 million square feet of high-end retail and restaurants. Since 2013, the submarket has added or approved an additional 4,000 units of multifamily housing.
Kennedy Wilson owns a 12 percent stake in Fund V, which currently has a portfolio of 18 office, multifamily, retail and residential assets with a gross purchase price of $1 billion. With the latest transaction, Fund V's capital is about 90 percent invested or committed.
The Beverly Hills, Calif.,-based firm announced in February 2016 that it had completed fundraising for Fund V, a U.S. value-add, closed-end fund with $500 million in capital commitments. Kennedy Wilson provided $60 million. Other funds came from the U. S., Europe and the Middle East, and included new and existing investors primarily from public and corporate pension funds. The fund has a flexible mandate that focuses on core West Coast markets and crosses various property types.
In September, Kennedy Wilson said one of the fund's investments was the purchase of a 451-unit multifamily community in Bellevue, Wash., for $172 million. Fund V invested $58 million and secured a 10-year $115 million loan from Fannie Mae for the balance.
In addition to the Brand campus deal, Kennedy Wilson also announced a separate transaction—the sale of a 195,000-square-foot office building in North Hollywood, Calif., for $69 million. The firm had a 52.5 percent ownership in the property. No other details on the disposition were released.
Kennedy Wilson has been in the news recently, announcing in April that London-based Kennedy Wilson Europe Real Estate Plc, which invests in direct real estate and real estate loans in Europe, would become a wholly owned subsidiary of KW. When the merger is completed by the third quarter, the combined company is expected to have an enterprise value of $8.2 billion and a global portfolio of more than 400 properties.
Image courtesy of Kennedy Wilson