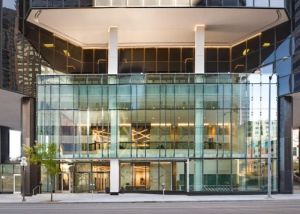 After more than a decade of ownership of the Granite Tower in Denver, KBS has traded the premier office building for $203.5 million, according to documents filed with the Securities and Exchange Commission. KBS sold the approximately 593,500-square-foot high-rise, which had been part of the KBS Real Estate Investment Trust II Inc., to a joint venture of CP Group and Related Fund Management in an off-market transaction.
---
READ ALSO: Suburban Denver E-commerce Facility Commands $114M
---
KBS had owned Granite Tower, located at 1099 18th St. at the entrance of LoDo, or Lower Downtown, in the heart of city's central business district, since 2010, when KBS REIT II acquired the 31-story building for $149 million.
"Denver has undergone tremendous growth over the last several years. We initially acquired the property in 2010, recognizing that the market was primed for ongoing expansion. This proved to be true as both companies and talent have continued to migrate to the region," Tim Helgeson, senior vice president with KBS, told Commercial Property Executive. "Now was the perfect time to sell as it allowed us to bring the asset full cycle and to capitalize on the region's growth over the years, which ultimately created value for our investors."
KBS recently concluded an $11 million renovation program at Granite Tower, which first opened its doors in 1983 and has been known as Stellar Plaza and Plaza Tower. The series of upgrades included the construction of a new three-story glass lobby, as well as an open deck offering indoor/outdoor collaboration space for tenants, a new conference room, tenant lounge area and fitness facility, to say nothing of infrastructure upgrades such as new HVAC units.
The LEED Gold-certified office destination also features a 774-space, three-level parking structure and provides direct access to the Ritz-Carlton Hotel.
The investment community responded well to the asset. "We received quite a bit of interest on the property," Helgeson said. "It's no secret that Denver has changed a lot over the last decade and continues to attract both institutional and private investors. Our foresight to recognize this early on, entering the market over 10 years ago was instrumental in this success."
Changing of the guard
For its part, CP Group makes its entrée into the Denver market with the joint venture acquisition of Granite Tower, marking the achievement of a long-held goal. The new ownership plans to continue to take the Class A Granite Tower to a new level with additional enhancements to the property's amenities offerings in an effort to capitalize on the market's growth. Denver is still in recovery mode, but the outlook is positive.
"The Denver office market displayed strengthening fundamentals in the second quarter of 2021 off the heels of the COVID-19 pandemic. Absorption and sublease availability levels have started to correct themselves as occupiers reignite conversations on their office footprint," according to a second quarter report by CBRE. "Denver continues to attract large technology, life science and financial service users. Out-of-state interest from occupiers remains heavily persistent as Denver looks to rebound quicker than most due to its highly educated workforce, favorable pricing, diverse industry pool and quality of life."
CBRE's Tim Richey, Jenny Knowlton, Chad Flynn, Charley Will and Alex Mulvihill represented KBS in the Granite Tower transaction. CP Group and RFM have tapped Jamie Roupp of JLL to spearhead leasing at the property.