By Barbra Murray, Contributing Editor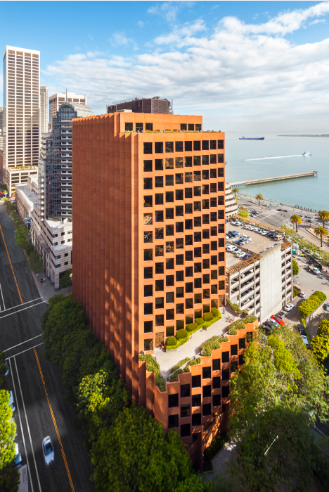 KBS Real Estate Investment Trust III has given its waterfront San Francisco office building at 201 Spear St. a makeover. The REIT recently completed a series of upgrades and now the 252,600-square-foot tower is ready for its close-up.
The renovation comes two years after KBS REIT III snapped up 201 Spear from Cornerstone Real Estate Advisers LLC for $121 million. Developed in 1984, the 18-story, Class A building is located downtown in the city's South Financial District, where it sits within close proximity of new high-rise residential developments and, of greater note, transportation hubs, including the $4.2 billion Transbay Terminal project, which is on track for completion in 2017
It has the location and with the new upgrades, 201 Spear has the bells and whistles that tenants desire in San Francisco. The new additions include the 201 Lounge. Designated for tenants only, the WiFi-enabled communal area offers amenities ranging from a 70-inch Mondopad with state-of-the-art technology and video conferencing capabilities, to a hydration station with complimentary light beverages. KBS also added a bike storage space and a shower and locker room area, and the REIT expects more retailers to join Starbucks on the premises.
KBS didn't renovate just for renovation's sake. "We believe that these upgrades will attract high-quality tenants who are looking for locations that offer a live-work-play environment," Brent Carroll, senior vice president with KBS, said in a prepared statement.
It's a competitive market. Per a third quarter report by commercial real estate services firm Cushman & Wakefield, San Francisco's South Financial District has the highest asking rents in the city and the highest vacancy rate–that's if 7.3 percent can be considered high, and it can, as the average vacancy rate in non-CBD submarkets is just 3.7 percent.
At 201 Spear, however, the tenant roster is anything but lackluster. Verizon Business Services occupies nearly 30 percent of the building's leasable square footage, and iMatchative, Inc., Moovweb, litigation firm Manion Gaynor & Manning and a host of other businesses also make their home in the tower. As noted on the website of Cushman & Wakefield, which handles leasing at the building on KBS's behalf, only 7,460 square feet of office space remains available.
Rendering courtesy of Prosek/KBS.