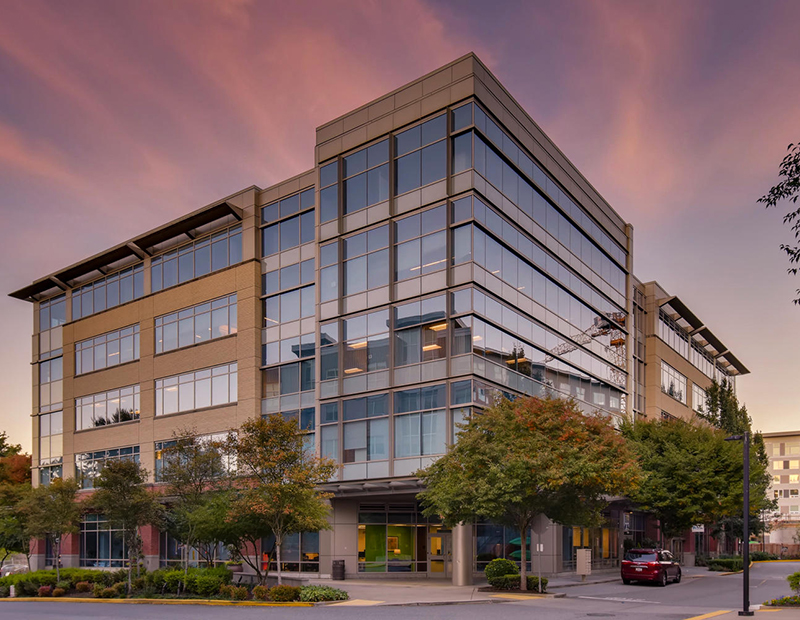 Private equity real estate firm KBS has acquired the Offices at Riverpark, a Class A office building in Redmond, Wash., on behalf of a sovereign partner for $48.1 million. Built in 2008, the five-story, 106,281-square-foot property is fully occupied by companies in the healthcare, tech, insurance, finance and other sectors.
An affiliate of Colony Capital sold the suburban asset, having bought it from JMA Ventures for $36.9 million in 2015, Yardi Matrix data shows. The LEED Silver property is located at 15809 Bear Creek Parkway in central Redmond, a city 16 miles east of Seattle that is home to Microsoft.
The office building forms part of a complex that includes the 144-key Hyatt House hotel, more than 300 luxury apartment units and around 10,000 square feet of restaurant and retail space. Within walking distance is Redmond Town Center, a 1.3-million-square-foot mixed-use complex with more than 120 retail, dining and entertainment options.
KBS plans to modernize the building's lobby and add more amenities for tenants. Newmark Knight Frank's Kevin Shannon, who serves as co-head of U.S. capital markets, along with Nick Kucha, Ken White, Michael Moll and Bill DeLacy represented the seller in the deal, while Tim O'Keefe and Mike Schreck handled the market leasing.
Seattle's Eastside is hot
Shannon said in a prepared statement that the asset received strong interest from various pension fund advisors and separate account core-plus buyers. He cited the strength of Seattle's Eastside office market as well as the asset's stable in-place cash flow and recent leasing velocity as factors that contributed to a highly competitive bidding environment.
The Eastside encompasses the Seattle suburbs that lie on the east side of Lake Washington. Investment sales activity was strong last year in the Seattle metro area, with total deal volume reaching $3.7 billion, according to a Yardi Matrix report. Very high prices in the urban core drove more investors to the suburban areas in search of higher yields. In 2018, 12 assets totaling 1.9 million square feet changed hands for a total of $596 million.
KBS has substantial office and business park holdings in the Seattle area, including the Westpark Portfolio, a bundle of 21 suburban office, industrial and flex industrial buildings totaling 782,185 square feet. The real estate investment manager picked up the portfolio of assets adjacent to downtown Redmond in 2016.