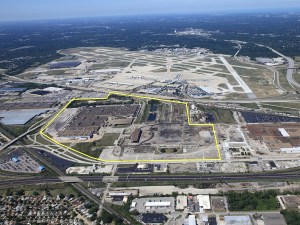 A 210-acre site that once housed industrial operations for the Ford Motor Co. in Brook Park, Ohio, will soon be converted into a project that could help shape the future of the Northeast Ohio region. Weston Inc., DiGeronimo Cos. and Scannell Properties recently joined forces on the acquisition of the Cleveland-area property, with plans of redeveloping it into a unique commercial area.
---
READ ALSO: How Economic Health Will Energize CRE
---
According to Cuyahoga County records, the partnership, officially identified as DROF BP I LLC, purchased the former Ford property from the automobile manufacturer in a transaction valued at $31.5 million. Carrying the address of 18300 Snow Road, the sprawling site is presently home to a 1.7 million-square-foot building that had operated as an automotive engine assembly and casting plant. The two-story structure, which includes 120,000 square feet of office space, first opened in 1955 and underwent substantial upgrades and an expansion in 1990 and 1998, respectively, before Ford shuttered the doors in 2012.
The property is currently zoned for heavy industrial uses and provides a location that would be attractive to a variety of tenants. Sited roughly 10 miles southwest of downtown Cleveland, the onetime Ford facility is positioned adjacent to Cleveland Hopkins International Airport as well as a public rail station, and approximately 10 miles from the Cleveland Port. Weston, DiGeronimo and Scannell have not disclosed specifics about plans for the site just yet, however, they expect to reveal additional information over the coming months.
Playing to Cleveland's strengths
Weston et al are offering no hints regarding the vision for the redevelopment they describe as a project that "will absolutely be transformational to the region." Yet, area fundamentals indicate that the partners would certainly see success should they move forward with a premier industrial campus. Cleveland has recorded seven consecutive quarters of positive net absorption, leading to a consistently declining vacancy rate that fell to 4.6 percent in the first quarter of 2021, the lowest in three years, according to a report by Colliers International.
Northeast Ohio as a whole is firing on all cylinders. "Despite the large inventory of manufacturing properties and limiting lakefront geography, Northeast Ohio's industrial real estate market competes as a logistic hub. This subtype of the industrial market that serves modern warehousing, distribution and supply chain logistics is expected to continue its rapid expansion for the next several years," according to the Colliers report. "The shift to online shopping that accelerated during the lockdown phase of the pandemic, along with consumer expectations for faster delivery times, is expected to generate growing demand for industrial space."
Should the developers pursue rezoning options at the former Ford site, they may consider following the lead of other builders in Cleveland and undertake a mixed-use project. The Avian at Thunderbird is J-Roc Development's adaptive reuse of an old warehouse resulting in the creation of a modern office destination at the 21-acre, mixed-use Thunderbird development on Scranton Peninsula. Additionally, Ceres Enterprises and Citiroc Real Estate Co. have repurposed the former historic NASA Glenn Research and Development buildings into a mixed-use property featuring luxury apartments and a boutique hotel near Cleveland Hopkins International Airport.