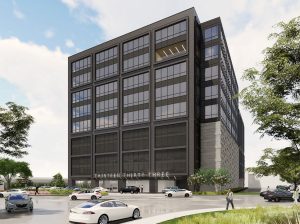 A partnership between FCP and Quadrant Investment Properties has announced plans to develop Thirteen Thirty Three, a Class A office property totaling 122,768 square feet in Dallas' Design District. The joint venture expects to break ground on the project in the second quarter of the year, with completion scheduled for the third quarter of 2023.
The owners have selected Transwestern to market the 10-story office property.
The development will take shape at 1333 Oak Lawn Ave. In addition to the office component on the top five floors, Thirteen Thirty Three will feature a 2,675-square-foot retail component on the ground floor, along with a five-level parking garage with a parking ratio of 3 spaces per 1,000 square feet. The office section will have floorplates ranging between 19,000 and 29,000 square feet.
Planned amenities total 10,864 square feet across most of the ninth floor and include a fitness center, a basketball court, two terraces, a conference room and a community lounge.
The development is easily accessible, within less than a mile from Interstate 35E and within walking distance of several public transportation options. Downtown Dallas is some 3 miles southeast.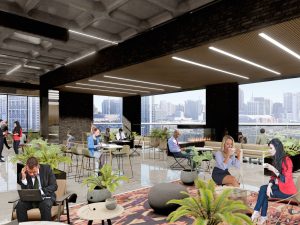 Quadrant Investment Properties' interest is high in the area. The company has acquired more than 20 properties in the Design District since 2020. Recently, QIP signed a 16,000-square-foot lease with local ride sharing company Alto. The firm will anchor the new office redevelopment at 141 Manufacturing St.
DFW office sector
At the end of last year, office vacancy across the Metroplex has remained stable month-over-month, at 17.6 percent, CommercialEdge data shows. While the vacancy rate outpaces the national average of 15.5 percent, it marks an improvement over the January 2021 figure of 18.5 percent.
Despite uncertainty around the future of the sector, developers started construction on 3.8 million square feet of office space in the Dallas-Fort Worth market in 2021. Nationally, only Austin saw more office starts during the year, with 4.4 million square feet. As of December 2021, more than 5.1 million square feet of office space was underway in Dallas-Fort Worth, representing 7.5 percent of the total stock.
Meanwhile, Goldenrod Cos. is set to break ground on an approximately 99,400-square-foot Class AA office project in Fort Worth. The Van Zandt represents the city's first speculative office development in the last five years.