By IvyLee Rosario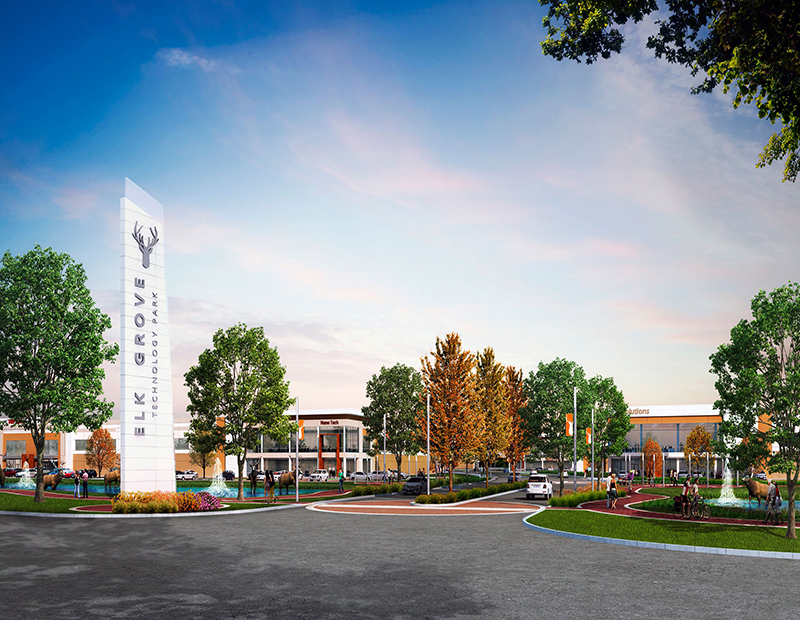 A joint venture between Brennan Investment Group and Greenfield Partners has acquired an 85.8-acre land parcel at 955 E. Higgins Road, formerly known as Busse Farm, in Elk Grove Village, Ill. CBRE represented the seller, Tim Busse, as well as the buyers. 
"Since announcing the project earlier this year, we have been gratified to see the incredible demand from high-tech industrial and clean manufacturing firms, as well as data center providers," said Michael Brennan, chairman & managing principal of Brennan Investment Group, in prepared remarks. "With this transaction, we are ready to commence one of the most significant industrial developments in the country."
Land Conversion
The land is the largest unimproved site in the O'Hare industrial market and Brennan worked closely with Elk Grove Village over the last two years to obtain approval for its Elk Grove Technology Park development at the site.
The project will offer 1.2 million square feet of high-image, state-of-the-art industrial and data center space. Throughout the first quarter of 2018, the partners will begin construction on the in-fill development that will have an amenity-rich infrastructure with ponds, sculptures, pedestrian walkways, water features and bike paths. The proposed buildings will range from 75,000 to 250,000 square feet and will feature glass facades, 32-foot ceiling clearance, state-of-the-art systems, as well as fixtures and ample parking.  
CBRE's Mike Sedjo, John Hamilton, Jack Brennan and Tony Gange represented both the seller and the buyer in the transaction. The company also represented the buyer partnership in the acquisition of 17 additional acres adjacent to the larger parcel. Sedjo, Hamilton and Brennan will also lead the industrial leasing efforts, while Todd Batemen will manage the data center leasing. 
Brennan has been busy in the Illinois industrial market. Last November, the company acquired a 288,000-square-foot industrial property in McHenry, Ill., from Centurion Chicago Blue LLC. 
Rendering courtesy of CBRE