By Nancy Crotti, Contributing Writer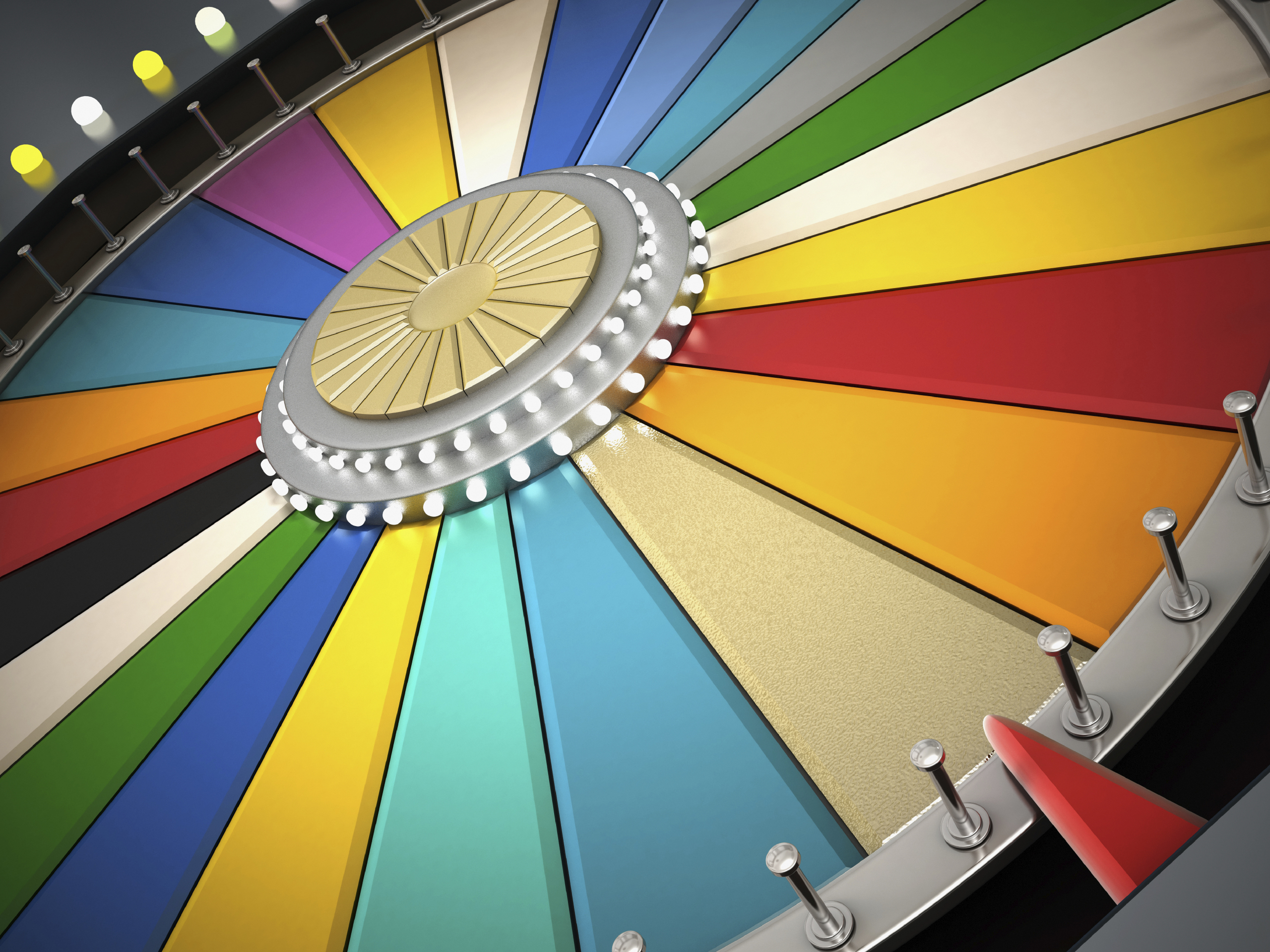 Commercial property owners and managers can count on a third consecutive year of declining property insurance premiums, thanks to Mother Nature and heightened competition among carriers.
Barring a series of disasters, premiums are expected to drop 10 percent or more this year, industry veterans report. Willis, for example, estimates that property insurance premiums for both catastrophic and non-catastrophic coverage will dip between 12.5 percent and 15 percent.
Reversing that trend would take "a number of events totaling in excess of $75 to $100 billion" in losses, said Kevin Madden, managing director & real estate practice leader for Aon Risk Solutions. "We'd have to have two hurricanes and an earthquake and something else."
The decreases will continue a pattern established last year.
During the third quarter of 2014, 52 percent of Marsh clients reported decreases in "all-risk" insurance rates, followed by 61 percent during the fourth quarter. Much smaller groups—29 percent during the third quarter, 24 percent during the fourth quarter—reported rate increases.
Multiple factors appear to be tilting the balance in favor of property owners and managers. Globally, property losses have been lower than normal, as well. Swiss Re reported that losses dropped from $45 billion in 2013 to $34 billion last year, well below the 10-year average of $64 billion.
A big part of the reason for this favorable outlook is the weather. Once again this year, forecasters are predicting that a lower-than-average number of hurricanes will hit the East Coast. Only two are expected to reach Category 3 strength, the level at which storms cause heavy damage and inflict billions of dollars' worth of insured losses.
Price Wars
The dearth of events that spur major payouts, plus a steady flow of capital from hedge funds and other investors chasing yield, has left insurance carriers flush with cash. Reserves are hovering around $700 billion this year, up from between $450 billion and $500 billion in 2009, Madden noted. These conditions are spurring competition, as insurers can afford to charge as much as 20 percent less for property insurance than they did in 2014.
New entrants are also ratcheting up competition. Insurers from China and the United Kingdom, in particular, have swooped in. Lloyd's of London, whose pricing in the U.S. used to follow that of other insurers, is now leading the pack in driving down prices, noted Allyson Martin, managing director of national real estate at insurance brokerage Beecher Carlson. AIG has become more aggressive with pricing, as well, and Berkshire Hathaway's shift of focus from reinsurance to direct insurance is also fueling the competitive fires, Martin added.
Lenders, too, have contributed to the competition, relaxing their requirements for coverage limits during the past two years, enabling insurers to slash premiums further.
"In the past, (lenders) just wouldn't come down at all (on premiums)," Martin said. "Now they're doing anything they can to keep those accounts, so they're kind of bending over backwards."
In the face of competition, insurers are coming up with new products, rebooting old ones and broadening policy terms. In a departure from the typical practice of renewing contracts annually, some carriers have re-introduced multi-year policies. Others are using deductible buy-back programs to keep customers from straying.
Aon is offering a new product aimed at companies that buy REIT shares. The policy protects its customers against tax liability—including clawbacks—in case the REIT fails the IRS's litmus test, Madden said.
Cyber Safety
Policies covering cyberattacks are grabbing property owners' attention, as well. An intrusion into Essex Property Trust Inc.'s computer networks last September commanded the attention of owners and managers. As recently as April, the Palo Alto., Calif.-based REIT was still trying to determine to what extent the attack might have compromised the personal information of its residents.
"All of our clients are looking at (cyberattack insurance). Some of them have purchased it," said Madden. "They're trying to get their arms around what their exposure is." Recent research suggests that there is room for improvement in real estate owners' approach to cyber insurance. Although 45 percent of respondents to a recent AON survey said they had commissioned an assessment of cyber risks, a much smaller group—16 percent—reported purchasing the insurance. Another 27 percent plan to buy cyber insurance, and 57 percent say they do not carry the coverage and have no plans to do so.
Those figures are comparable with average rates for other industries; however, the level of confidence expressed in the coverage leaves room for improvement. Only half of those representing real estate companies consider their insurance coverage for cyber attacks to be "sufficient and effective for managing their exposures." That is far fewer than the 78 percent of all respondents who expressed that view.
Exposure to liability for cyber attacks may be considerable, given how much of tenants' confidential information property owners have. The hospitality industry's reliance on point-of-sale transactions is particularly vulnerable, and it is leading commercial real estate in buying insurance against cyberattacks, according to Brian Ruane, director of Willis North America's national real estate and hotel practice.
Though many owners have yet to sign on for coverage against cyber attacks, they seem to be more receptive to environmental liability insurance. While the hazards posed by contaminants like carbon monoxide, bacteria, mold and lead are hardly new, Ruane reported that property owners are more willing than in the past to buy coverage.
Cost-Cutting Tips
Depending upon the location of the assets, property insurance remains among the top five costs of operating a portfolio, noted Jeffrey Alpaugh, who heads Marsh's global real estate and hospitality practice. Underwriters who use catastrophe-modeling software to determine risk have a voracious appetite for details. Alpaugh's rule of thumb for reducing premiums or receiving credit from carriers: "The more data, the more granular the underwriters can get, the more comfortable they are."
Beyond sharing the building's location, general construction, occupancy and exposure, property owners can drive down premiums by providing secondary details, such as roof construction, tie downs, elevation and window types, according to Alpaugh. He urged owners "to make sure they are providing this data in order to get a better result." Some owners are continuing to apply the lessons of recent natural disasters, particularly Superstorm Sandy, which hit the Northeast in 0ctober 2012. In Manhattan, where flooding knocked some office buildings out of service for months, many owners moved systems from the basement to the second or third floor.
Although the relocation reduced revenue by taking up rentable space, the owners decided that ensuring business continuity in case of a future flood was worth the tradeoff, Alpaugh explained. Moreover, getting equipment out of harm's way earned those owners a credit on their property insurance premiums.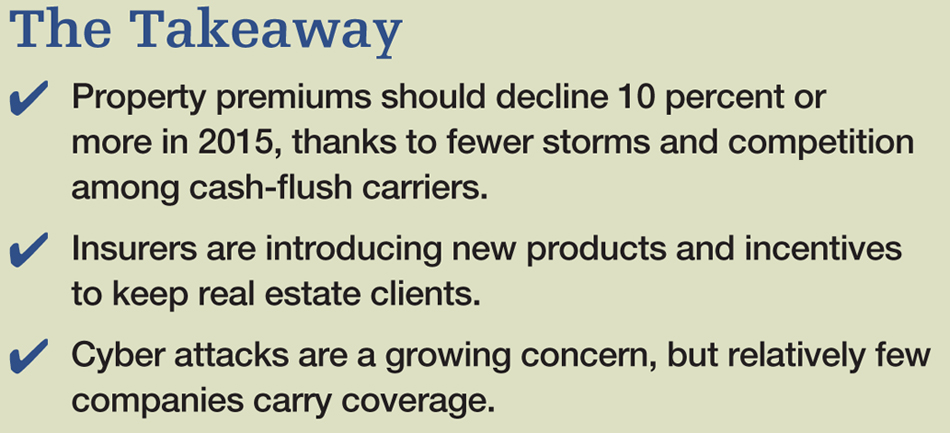 In some cases, government policy, rather than weather patterns or competition, is shaping insurance trends. In January, Congress passed the Terrorism Risk Insurance Program Reauthorization Act of 2015 (TRIPRA), which extends the government backstop through 2020. The reauthorization capped years of industry advocacy and eased uncertainty among investors and lenders alike. Of note, Congress required insurers to take on more risk, which will presumably have the effect of reducing rates or keeping them steady.
Some national flood insurance holders won't get a break, either. The congressional repeal and modification of the Biggert-Waters Flood Insurance Program of 2012, which took effect on April 1, will boost some flood insurance premiums or add a surcharge to existing premiums.
Historically tough losses are keeping premiums from falling in the multi-family market, as well, but owners have some options. To reduce control premiums and nuisance claims, such as those resulting from minor fire damage, some owners and managers are educating residents on fire prevention. Others now require residents to buy $100,000 in liability coverage individually or through a policy that the owner pays for through higher rental rates, according to Alpaugh. "It puts a little bit more onus and responsibility on the (resident) for those types of claims," he said. "That's a good way to keep track, too, of what insurance is in place."
For the digital version, click here.