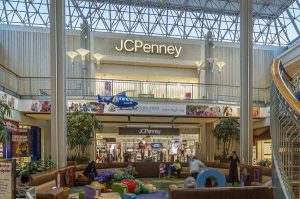 A joint venture between The Meridian Group (TMG) and Martin-Diamond Properties has acquired a $53 million, 900,000-square-foot portfolio of JCPenney stores across three Mid-Atlantic cities. TMG and Martin-Diamond purchased the five mall-adjacent properties from Copper Property CTL Pass Through Trust, which has managed the locations after the retailer's emergence from pandemic-era bankruptcy.
The stores are located in Annapolis, Md.; Columbia, Md.; Springfield, Va.; Fair Oaks, Va.; and Christiana, Del. Following the completion of the purchase, TMG and Martin-Diamond are consulting with H&R Retail President & Principal David Ward and Principal Bradley Buslik on future uses for the properties. At present, the stores continue to operate as JCPenney outlets.
TMG Senior Associate of Acquisition contextualized the purchase in this regard, telling Commercial Property Executive, "We acquired these properties because we like their long-term positioning in the market and potential optionality, in addition to the strong current tenancy. While we do not know today what these properties will look like down the road, our dynamic ownership group is well up to the task of meeting the market to deliver best-in-class tenant, customer, visitor and community experiences."
JCPenney emerged from bankruptcy under the ownership of Simon Property Group and Brookfield Asset Management. The two retail operators acquired all of JCPenney's assets in a deal that closed at the end of 2020.
Retail's resurgence
The TMG and Martin-Diamond Properties acquisition takes place as the nation maintains a stable retail landscape, even as the sector has undergone an unprecedented degree of transformation over the past two years. Despite rampant inflation and supply chain struggles, the retail sector has posted six straight quarters of positive net absorption, hitting a five-year high of 94.3 million square feet, according to a recently released report by JLL. Over 250 million square feet of retail space has been leased over the past 12 months and the nationwide vacancy rate across all retail types is at 4.4 percent, data from the same report shows.
The purchase of the retail portfolio is the second joint acquisition for TMG and Martin-Diamond Properties this year, following 2900 M St. NW, a 17,081-square-foot historic mixed-use asset in Washington, D.C. The property is currently undergoing a major redevelopment as a premier office and retail space.