By Keith Loria, Contributing Editor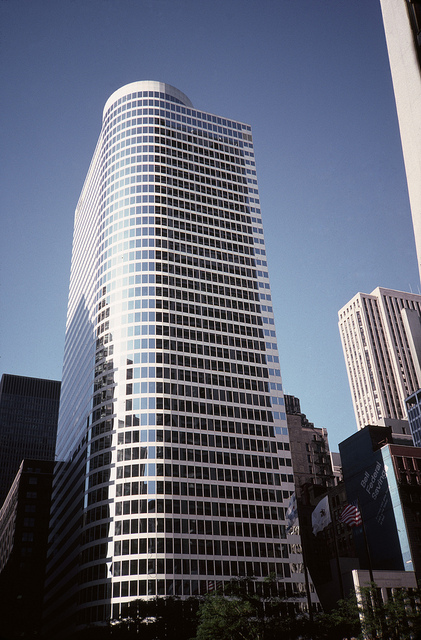 John Hancock Real Estate, the U.S. division of Manulife Financial Corp., has acquired 55 W. Monroe, an 804,214-square-foot Class A office building located in Chicago's Central Business District's Central Loop, from a joint venture between the Hearn Co. and Mount Kellett Capital Management L.P., for $244 million.
"Chicago is one of seven core markets across the U.S. that is part of our investment strategy," Ted Willcocks, Manulife Real Estate's global head of asset management, told Commercial Property Executive. "We are attracted by the economics and job growth of the area."
The 40-story building was originally constructed in 1981, designed by renowned Chicago architect Helmut Jahn. It was renovated in 2003 and was named office building of the year in 2007 by CBOMA.
Currently, the LEED Gold-certified building is 91.6 percent leased to a diversified tenant base. It boasts an elegant Post Modern style exterior and includes recently upgraded fitness and conference centers, lobby and bicycle parking facility.
"When we purchased 55 W. Monroe, we saw a great opportunity to transform the building into a stable, core asset and we're tremendously proud of the value we have added through renovations and amenity enhancements," Stephen Hearn, Hearn's president & CEO, said in a company statement. "The success of our rejuvenation efforts allowed us to draw a diverse set of new tenants to the building and dramatically raise occupancy from 68 percent to over 90 percent today."
Willcocks said that because of Hearn's successful repositioning of the asset, he didn't anticipate any immediate renovations or changes to the building.
With the acquisition, Manulife Financial Corp.'s global real estate portfolio now represents assets under management of $10.5 billion with properties totaling more than 39 million square feet.
According to Willcocks, the acquisition fits strategically with its other Chicago properties—191 N. Wacker, 200 S. Wacker and 150 N. Michigan Ave.—allowing for synergy in its operation and leasing.
JLL international director Bruce Miller and senior vice president Nooshin Felsenthal completed the sale on behalf the building's seller.