By Barbra Murray, Contributing Editor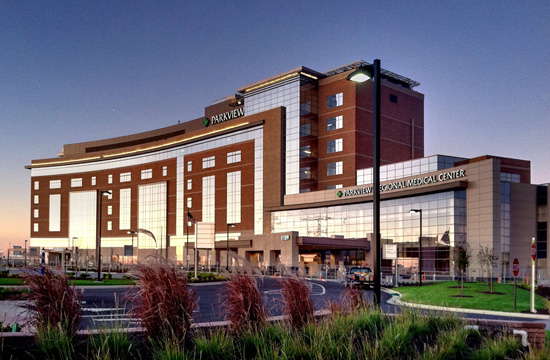 Jones Lang LaSalle Inc.'s job as program manager for the development of Parkview Health's Parkview Regional Medical Center is done, now that construction of the 975,000-square-foot hospital in Fort Wayne, Ind., has reached completion. The big-ticket project came with an equally big price tag of $536 million.
"Across the whole team — he client, consultants, contractors, everyone — it's been a very enjoyable project," Gary Greene, program manager with JLL, told Commercial Property Executive. "It was a great collaborative effort, and I think it's testimony to what people can do when they have a common purpose and interest to achieve something. It's remarkable."
JLL's Project and Development Services team was charged with orchestrating the development of the 410-bed hospital from beginning to end. "We managed the whole implementation for them in terms of hiring and building the team, contracting, budgets, scheduling," Greene said.
JLL oversaw a three-stage design process, working with the architect, contractors and other stakeholders. The firm solicited separate bid packages for tasks ranging from site work to interior work. Each step was taken with the goal of containing costs and remaining on schedule, while meeting the client's expectations for the end result.
Of course, it's a rare client that doesn't want a development to deliver on time and on budget, and for Parkview Health, JLL took it a step further by wrapping up the project one month ahead of schedule and at a cost that was $11 million less than the budgeted total. And it was accomplished with no shortage of obstacles. There were permitting issues to contend with, as well as a change in management. "And we had a six-week labor strike at the beginning, too," Greene said.
HKS Architects was onboard the project as designer and Weigand Construction and Pepper Construction took on the building responsibilities. The completed facility dovetails with the concept Parkview Health had in mind over 10 years ago when it began contemplating plans to address its aging flagship hospital, built more than a half-century ago, and growing demand for services in the area. "Their mothership has about 400 beds and it's a large complex but a lot has changed since the '50s and they decided back around the year 2000 that in light of how the market for healthcare was evolving in Fort Wayne, they need to have a presence in this new location to address not only the new market reality but also the fact that their existing facility was 50-plus years old," he explained.
The new property serves not as a replacement, but as an upgraded addition to Park Health's offerings in Fort Wayne; the healthcare provider will keep the doors of its older hospital open. When it comes to hospitals in the area, there is a gap between supply and demand, and activity at Parkview Regional serves as evidence. The hospital opened on a Saturday with 120 patients having been relocated from the original hospital, and by Tuesday, the census was at 93 percent. It has since reached 100 percent.
JLL's securing of the contract to manage the development of Parkview Regional was quite a coup, as such gargantuan hospital projects do not come along every day. "Healthcare reform, and the issues it faces, keeps uncertainty a constant theme," Shawn Janus, managing director of JLL's healthcare development programs, notes in the firm's recent update on the healthcare real estate market. "Very few systems, or developers, are prepared to go full bore with plans. The pipeline of new projects is more limited than when the economy was going gangbusters. The planning and financing processes take a great deal of time, so other than obvious requirements, the activity may be muted for some time."
However, as Greene pointed out, the degree of development varies across the country. "In general, the healthcare segment is a very solid segment of the real estate market." As per the study, the demand for medical office buildings is presently buoying the sector.
For Parkview Health, development work is not done. "We had two shell floors in the new hospital in anticipation of doing something in the future, but back in December leadership said, 'You know, we've got to make a move on that now,'" Greene recounted. "So they gave us the green light to build out the shell space, which brings another 48 beds online, and we're going to finish those by May. So the reality is, 'We really need those beds.'"