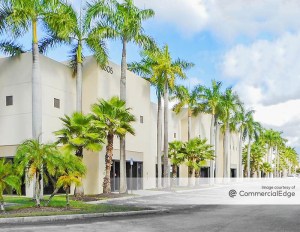 JLL Capital Markets has arranged a $73.35 million refinancing for a five-property industrial portfolio totaling 713,481 square feet in South Florida. The borrower is Seagis Property Group LP.
JLL placed the 10-year, fixed-rate, interest-only loan through a correspondent life insurance company.
The 13-building portfolio includes Class A and B industrial properties at 8305 N.W. 27th St. in Doral, 8150 N.W. 76th St. and 2101 N.W. 82nd St. in Medley, and 3000 N.W. 125th St. in Miami, as well as the nine-building small-bay Cooper Commerce Center at 2229-12260 S.W. 53rd and 12323 S.W. 55th streets in Cooper City (Broward County).
The portfolio is home to 67 tenants and currently is 99 percent occupied. The average occupancy has been 95 percent since 2011. The buildings have clear heights ranging from 21 to 24 feet.
The JLL Capital Markets Debt Placement team representing the borrower was led by Senior Managing Directors Greg Nalbandian and Jim Cadranell, Director Maxx Carney and Vice President Michael Lachs.
"As industrial real estate in strong in-fill markets backed by top institutional sponsors remains at the top of lenders' wish list, there was substantial competition" to finance this property, Nalbandian said in a prepared statement. "The sponsor took advantage of record-low interest rates while also repatriating a significant amount of equity to use towards future acquisitions."
Maintaining the heat
The properties are in infill locations in the Miami-Dade and Broward County industrial markets, two of the strongest industrial markets on the East Coast, according to JLL Research.
Further, Miami-Dade's industrial market shows little to no sign of slowing down. As overall vacancy has declined to 4.5 percent, the average asking rent rose during the third quarter to $8.84 per square foot. Rents are expected to continue to break records in the near future.
The Broward County industrial market is in a similar place, as asking rents have risen to $9.70 per square foot and demand is expected to remain robust, according to JLL.
In a $184 million deal last January, CenterPoint Properties acquired two warehouse/distribution facilities, totaling more than 1 million square feet and leased to Home Depot, in Hialeah, Fla. The seller was Flagler Global Logistics.
In May, Duke Realty Corp. broke ground on a 501,000-square-foot speculative logistics building in Medley, Fla., not far from Miami International Airport.