By Gail Kalinoski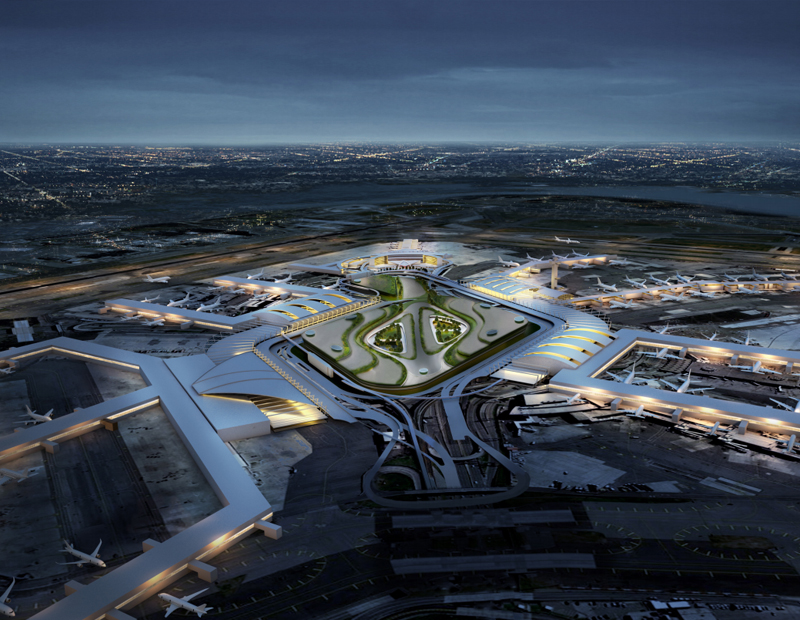 The projected $10 billion redevelopment of New York's John F. Kennedy International Airport has taken a big step forward with the appointment of an engineering and design consulting team tasked with implementing the plan based on recommendations from Governor Andrew Cuomo's Airport Advisory Panel.
Cuomo unveiled the "vision plan" in January that focuses on three key areas: transforming JFK into a unified, interconnected, world-class airport; improving road access to the airport and expanding rail mass transit to meet projected passenger growth.
Located in the New York City borough of Queens, the airport served a record 58.8 million passengers last year and is expected to top 60 million travelers this year, along with moving an estimated 1.3 million tons of cargo.
Following a competitive RFP process that began in July, Mott MacDonald, a leading global engineering and development firm, and Grimshaw Architects, a renowned London-based architecture and planning firm, were selected to lead the team. The two firms have extensive experience in this field and have worked together on other master planning and redevelopment efforts at airports in London, South Korea, Hong Kong, Singapore, Zurich, Germany, the Netherlands, Canada, Australia and South Africa.
The team also includes: TranSolutions, Harris Miller Miller & Hanson, VJ Associates, ACB Architects, EnTech Engineering, Naik Consulting, Reichman Frankle and Holmes Keogh. Together the entire team has provided master planning and redesigns at 10 of the world's top 20 airports, according to 2016 rankings by Skytrax, an international rating service for airlines and airports.
Airport redesign goals
In addition to guiding the advisory panel's recommendations for redevelopment, the team will create long-term program planning and project support, as well as short-term operational enhancement initiatives. Specific tasks will be integrating the terminals, redesigning on-airport traffic patterns, centralizing parking lots, expanding taxiways, fostering use of state-of-the-art security technology and ensuring there are world-class dining, retail and business center capabilities.
Mott MacDonald and Grimshaw Architects will also be developing forecasts of aviation demands through mid-century while optimizing airfield capacity to reduce delays, improve rail access and capacity to and from the airport. The team is also being asked to develop best-in-class cargo facilities and operations.
"Our plan for a transformed JFK envisions a unified, state-of-the-art airport to meet the demands of current and future passengers, and with this action, we're making these plans a reality. The new JFK will be a crown jewel of the New York City transportation network, an airport of the caliber that New Yorkers deserve, and a center of economic vitality and activity," Cuomo said in a prepared statement.
JFK isn't the only New York airport set for a major overhaul. LaGuardia Airport, also in Queens, is in the midst of a $4 billion makeover. The public-private redevelopment of the airport's Central Terminal B was approved in March 2016 by the Port Authority of New York & New Jersey, allowing it to move forward. LaGuardia Gateway Partners, a private consortium that is spearheading the redevelopment project, was selected by the state and the Port Authority to rebuild and operate the terminal. A new West Parking Garage and supporting infrastructure are also being built at LaGuardia.
While much of the LaGuardia project is expected to be completed in 2019, no timetable has been released for the JFK Airport redevelopment. However, like LaGuardia, the advisory panel expects there will be private investment in the JFK redevelopment.
Image courtesy of Grimshaw Architects