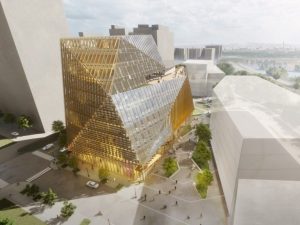 JBG Smith has broken ground on the first of three academic buildings planned at the Virginia Tech Innovation Campus in Alexandria, Virginia, part of a 65-acre mixed-use district in Potomac Yard. The university tapped JBG Smith as master developer for its $1 billion megaproject. The company received approvals for the first phase back in January.
In May, JBG Smith and institutional investors advised by J.P. Morgan Global Alternatives announced that they formed a partnership to own, design, develop and manage approximately 2 million square feet of mixed-use assets within the Potomac Yard redevelopment.
The initial academic building constructed within Virginia Tech's Innovation Campus will occupy approximately 3.5 acres and total 300,000 square feet. The 11-story project was designed by SmithGroup, focusing on sustainability, health and wellness. The architecture firm used computational and generative design to produce a geometry that maximizes photovoltaic power generation.
Liza Morris, Virginia Tech's assistant vice president for planning and university architect, worked with design firm Sasaki to create a master plan for the academic buildings. JBG Smith will construct two additional buildings for Virginia Tech, each of about 150,000 square feet. These future buildings will be developed as the larger campus grows.
The first building is planned to come online in the fall of 2024. In May of this year, Virginia Tech announced a $50 million commitment from Boeing to its Innovation Campus, becoming its first foundational partner. The multi-year commitment will contribute to the effort of creating a diverse graduate technology campus. The funds will be used to provide student scholarships, recruit faculty and researchers and fund STEM programs for underserved K-12 students, along with other academic programs.
Potomac Yard redevelopment grows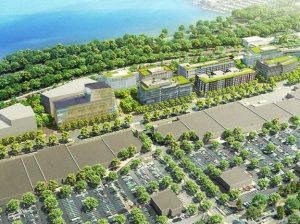 The wider Potomac Yard project has been in the works for over a decade, with the city planning the addition of a Metrorail station as well, along the Blue and Yellow lines. The neighborhood is located in southeastern Arlington County, adjacent to State Route 1 and roughly 7 miles from Washington, D.C. Amazon's HQ2 campus—also exclusively developed by JBG Smith—is just 2 miles to the north, in Crystal City.
JBG Smith gained the city's approval to construct six buildings in the initial phase of the North Potomac Yard redevelopment. This first phase—comprising roughly 1.7 million square feet—will see the addition of a mix of office, retail and residential space, as well as an "innovation building" adjacent to Virginia Tech's campus.
The current land use site plan for Potomac Yard North calls for a total of 7.6 million square feet of development. Of these, roughly 1.8 million square feet will be office space, 1.2 million square feet will be residential, an additional 3.7 million square feet will be mixed-use (office and residential), while 750,000 square feet are reserved for academic use and 743,000 square feet for retail. Plans also call for an 82,900-square-foot hotel component.