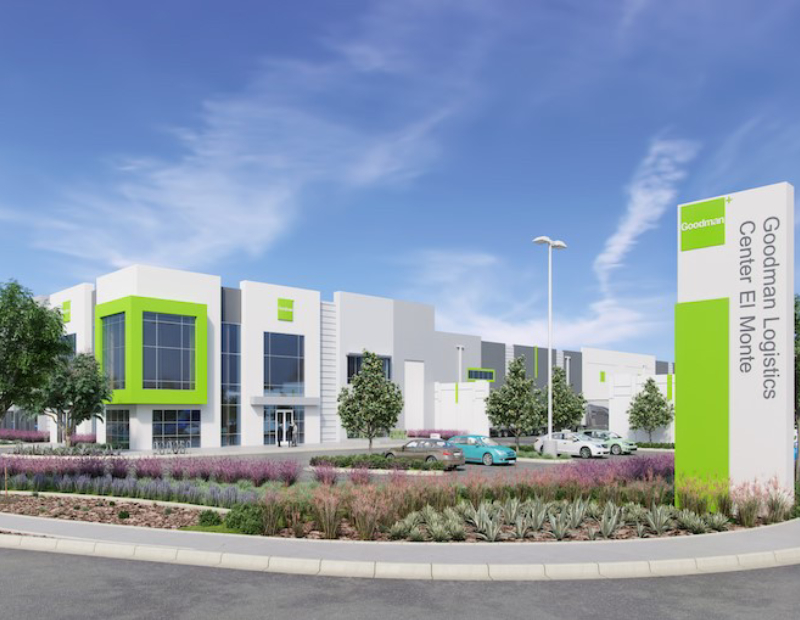 Mutual Trading Co. has signed a 300,000-square-foot lease at Goodman Logistics Center El Monte. Goodman Group is working on the two-building, 1.2 million-square-foot logistics facility in El Monte, Calif., which is expected to be ready for occupancy by the end of this year.
Goodman Logistics Center El Monte will offer a flexible and sustainable design, catering to a range of companies working in the logistics and e-commerce sectors. The Class A facility will consist of 572,240- and 363,417-square-foot buildings and will boast 36-foot clear heights, 164 trailer parking stalls and 147 dock doors. There will also be an ESFR sprinkler system and a LEED-certified shell. Currently, 935,657 square feet of logistics space is still available for leasing in Goodman Logistics Center El Monte.
One of Japan's leading food, beverage and restaurant supply specialists, Mutual Trading Co., is moving to the building from five current U.S. locations, consolidating under one roof, to better its supply chain efficiency.
Expanding its presence
Mutual Trading Co. has spent more than 50 years supplying some of Japan's top flavors to the U.S. The Sushi Institute of America, the Sake School of America, and the Hocho Service Center are all facilities that utilize its products regularly.
The company currently has showrooms in Los Angeles, San Diego, Las Vegas, Arizona, New York and Honolulu. The Goodman Logistics Center El Monte is strategically located near many of these locales, allowing the company to strengthen its distribution channels. Located at 4300 Shirley Ave., the property will be situated less than 1 mile from Interstate 10 and 4 miles west of Interstate 605. The facility is conveniently situated 18 miles from Downtown Los Angeles and 24 miles from the Port of Los Angeles/Long Beach.
In August, Goodman Group and Canada Pension Plan Investment Board committed an additional $1.75 billion of equity to the Goodman China Logistics Partnership, bringing their total equity commitment to $5 billion.
The latest logistic market report from CBRE revealed that supply outpaced demand in the first quarter across 55 U.S. regional markets slightly, though the first quarter of 2019 continued a downward trend of availability.
Additionally, the report noted that industrial space remains tight, with availability close to the lowest level it has been since the turn of the 21st century. California is one of the top industrial markets in terms of demand.