EdR Announces Officer Transitions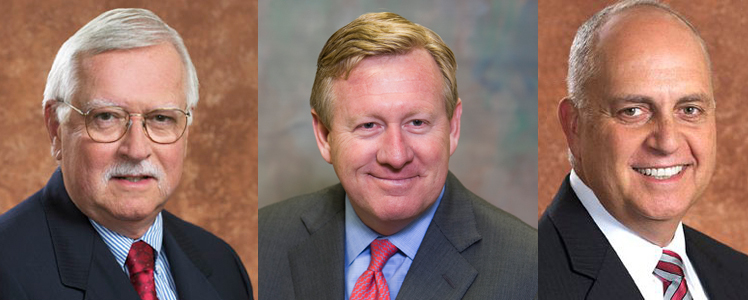 It's a bit of musical chairs at EdR Inc., the second largest student housing REIT. Paul Bower has retired as chairman of the board. He is being replaced with president & CEO Randy Churchey. Tom Trubiana, executive vice president & CIO, will advance to president and will also join the board. Bower spent 45 years with EdR, starting with the predecessor firm, Allen & O'Hara, as an assistant community manager at the industry's first private student housing community—Granville Towers at the University of North Carolina at Chapel Hill—which EdR still manages.
Nagel to Head New Capital One M-F Finance Office in Orlando
Capital One Multifamily Finance has opened a new office in Orlando, and has chosen industry veteran Robert Nagel, newly appointed senior vice president of originations, to head up operations. The Orlando office will offer Capital One's clients access to agency financing from Fannie Mae, Freddie Mac and the FHA. Before joining Capital One, Nagel worked for various financial institutions throughout Central Florida, including Washington Mutual, Fifth Third Bank and Collateral Mortgage Capital. With three decades of experience in the field, Nagel has originated more than $1 billion in direct bank balance sheet and agency lending.
JLL Expands in Portland with Cresa Merger
JLL is expanding in Portland. The global real estate firm is buying Cresa Portland, the city's leading tenant representation firm. The merger will unite Cresa Portland's founder and managing principal Craig Reinhart, managing principal Chris Elsenbach and 11 other employees with JLL's 150-person team, which provides tenant representation, capital markets, project and development services, corporate solutions and property management. JLL now manages close to 7 million square feet of space in the largest city of Oregon. Reinhart and Elsenbach will work closely with Buzz Elliss, who leads JLL's Portland office.
Lampi Succeeds Gujral as Inland Private Capital Corp. President
Brenda Gujral, president of Inland Private Capital Corp., has retired from the industry as of Dec. 31, 2014. She had been with Inland for 35 years, and recently led Inland Private Capital Corp. to record-setting years in 2013 and 2014. Keith Lampi will step up to the plate and continue his duties as COO of the Inland subsidiary. He has been with Inland Private Capital Corp. for more than 10 years and serves on the company's board. As of Sept. 30, 2014, Inland Private Capital Corp. has sponsored 159 placement programs, which include 376 properties with more than 19.8 million square feet of leasable area.
Cornerstone Appoints Gabriel Head of European Investment
Cornerstone Real Estate Advisors has named Julian Gabriel as head of investment for the firm's European activity. Gabriel, who joins from Doughty Hanson & Co. Real Estate, will report directly to Charles Weeks, CEO of Cornerstone Europe. Gabriel is tasked with sourcing new investment and development deals across the continent. He joined Doughty Hanson & Co. at its inception in January 2000, and was consistently promoted, landing most recently at the role of head of real estate. During his time at DHC, Gabriel oversaw a total deal flow of roughly €3 billion worth of real estate transactions across seven European countries.
Clarion Adds SVPs in New York, Boston
Clarion Partners has hired two new senior vice presidents. Alan Rubenstein joins the firm's New York office as senior vice president and regional office sector head. He is tasked with overseeing all of Clarion's office investments throughout the Eastern U.S., as well as Texas. Rubenstein joins Clarion from Parmenter Realty Partners, where he was senior vice president, asset management, for the Southwest region. Brian Collins has also joined Clarion's Boston office as senior vice president, asset management. He was previously a vice president, asset management, at Davis Cos. Collins will now oversee Clarion's office properties in New England.
Avison Young Enters Orlando with MCRE Acquisition
That lull in activity that often accompanies the approach of the holiday season isn't in Avison Young's DNA. The Toronto-based service firm is continuing its aggressive national growth campaign with the acquisition of Orlando-based MCRE L.L.C., marking its second acquisition in Florida this quarter. The purchase of MCRE, doing business as Morrison Commercial Real Estate, represents Avison Young's entrée into Orlando. Morrison Commercial opened its doors in 2007, and has made a name for itself in metropolitan Orlando as a leading provider of services in the office and industrial sectors. Greg Morrison, founder of Morrison Commercial, comes aboard as principal, along with colleague Lisa Bailey, and also takes on the role of managing director of the new Orlando office, bringing a quarter-century of industry experience with him.
BH Properties Brings Van Tuyle Onboard as Chief Acquisition Officer
Los Angeles-based turnaround specialist BH Properties has hired Andrew Van Tuyel as chief acquisition officer. He will be responsible for the firm's property and debt acquisitions throughout the Southwest. Van Tuyle is no stranger to the company, having spent more than two years with BH Properties as director of acquisitions, closing on nearly 2,000 multi-family units in Arizona during that time. Prior to rejoining the firm, the 15-year veteran was COO at Standard Management. Over the course of his career, Van Tuyle has closed multi-family, retail, industrial and office property deals in more than 20 states.