By Scott Baltic, Contributing Editor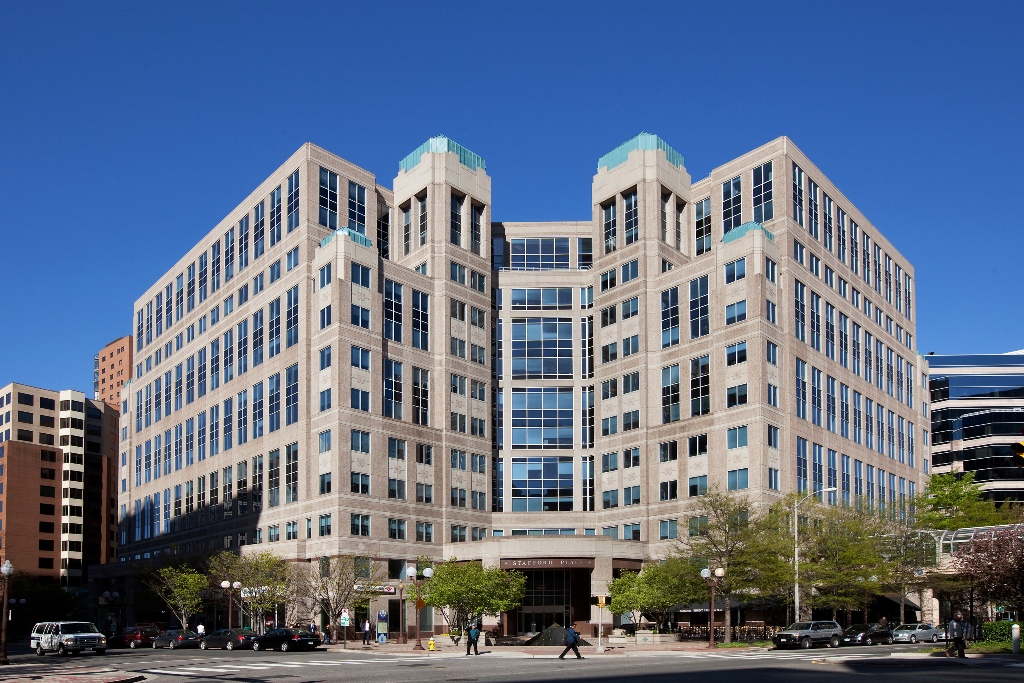 Stafford Place I, a 12-story, 587,036-square-foot Class A office building in the Ballston neighborhood of Arlington, Va., has been purchased for an undisclosed amount by Jamestown Premier Property Fund, it was announced Monday by Transwestern, which represented the unidentified seller, a private investor.
A news report from last January indicated that the owner, Dweck Properties Ltd., had engaged Transwestern to sell Stafford Place I, the adjacent Stafford Place II and Ballston Metro Center. The report suggested that the 1 million-square-foot portfolio would go for about $400 million. Neither Jamestown nor Transwestern would comment on the transaction.
The building, at 4201 Wilson Blvd., reportedly has one of the largest contiguous blocks of space in the metro Washington market and is currently fully leased, with 98 percent of the property occupied by the National Science Foundation as its headquarters. Two years reportedly remain on the NSF's lease.
The property features a full-height glass atrium, on-site parking for 933 cars, ground-floor retail and covered access to the Ballston Metro Station and the Ballston Common Mall.
Gerry Trainor, executive managing director of Transwestern's Mid-Atlantic Capital Markets Group, led the team that brokered the sale.
"Stafford Place I's ideal location has contributed to its historically full occupancy, and projections show a strong demand for large blocks of office space in this market," he said in a prepared statement. "This property is an excellent investment, offering a stable cash flow in the short-term and the potential to increase profits through repositioning the asset in the future."
An open-end fund, Jamestown Premier Property Fund is a core and core-plus investment vehicle for institutional investors and is focused on office, retail and mixed-use assets in major U.S. metro centers.
The fund's holdings in Washington, D.C., include 733 10th St., a 171,000-square-foot office in the East End submarket; America's Square, at 51 Louisiana Ave. and 300 New Jersey Ave., only a block from the U.S. Capitol; The Madison Office Building, at 1155 15th St. NW, which combines 98,000 square feet of office with a 365-key Loews Madison Hotel; and One Metro Center, a 421,235-square-foot building also in the East End submarket.
Jamestown Premier also owns Congressional Square, a 1.9-acre development site in the Capital Riverfront area that is zoned for 850,000 square feet of office space.