By Gail Kalinoski, Contributing Editor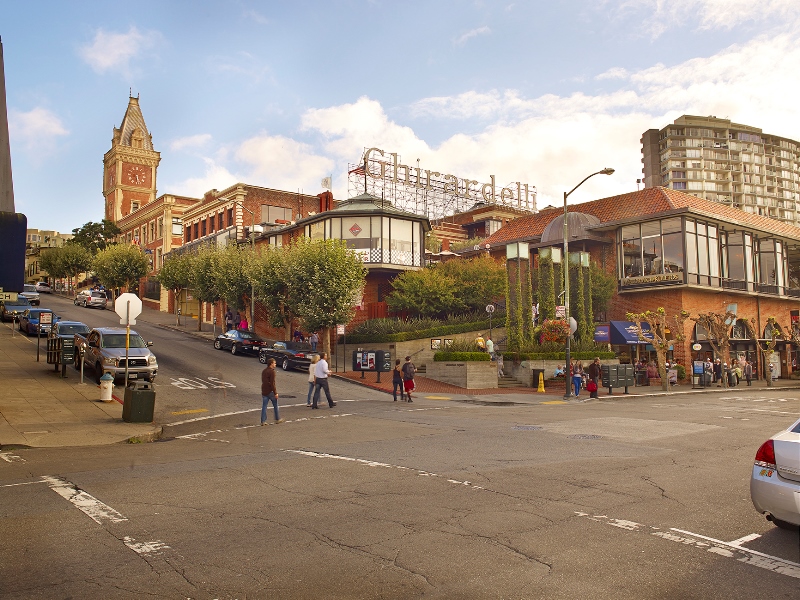 Aiming to boost its appeal to locals as well as tourists, Jamestown, an Atlanta-based national real estate investment and management firm, has acquired the famed Ghirardelli Square retail complex at San Francisco's Fisherman's Wharf.
Jamestown did not release the acquisition price but several media reports, including the San Francisco Business Times, noted it was $56 million.
The 100,394-square-foot lifestyle and entertainment complex is located at 900 North Point St. and is comprised of 12 buildings bounded by North Point, Beach, Polk and Larkin streets. It also includes a 10-level, 283-space below-ground parking garage and a two-level above-grade parking structure. Home to the Ghirardelli Square Chocolate Company's U.S. flagship location, the site also includes boutiques, shops and restaurants. It was 55 percent leased at the time of the sale.
Nicholas Bicardo and Mark Damiani, brokers in the San Francisco office of Holliday Fenoglio Fowler, L.P., represented the seller, Ghirardelli Acquisition Co., L.L.C., an entity controlled by the Royal Bank of Scotland, according to The Registry.
One of the city's landmarks, the original structures at Ghirardelli Square were built starting in 1864 and have been renovated and retrofitted over the years, most recently in 2009. The electric rooftop sign, which spells out Ghirardelli in 15-foot-high letters, was added in 1915.
"Ghirardelli Square is an American landmark visited by people from around the world. We are excited to acquire such a distinctive and historic asset and look forward to the opportunity to enhance the property's appeal to both tourists and locals," Jamestown Chief Operating Officer Michael Phillips said in a news release.
Phillips noted that of the 16.5 million tourists every year to San Francisco, an estimated 12.4 million, or 75 percent, visit the Fisherman's Wharf area.
"The tourism element will be key here," Garrick Brown, director of research at Cassidy Turley's San Francisco office, told Commercial Property Executive.
"I think they will be very successful with that property," he said. "It's similar to Chelsea Market in many ways and if they want to use that as a model, it makes perfect sense. Plus the restaurant market in San Francisco is hot, tourism and business travel is hot and this property is already desirable."
Brown said a turnaround was already happening at the site.
"There are just a few spots left to lease up but they are taking it on with it already in a pretty good position," Brown added.
Phillips said Jamestown is planning a multi-million renovation program over the next two years to "stabilize the asset and add new retail concepts and amenities that will distinguish this world-renowned property as both a neighborhood and vacation destination."
He said the company would preserve the historical character of the buildings and would reach out for input on changes at the waterfront site.
"In renewing the property's stature, we will work with historic consultants and community stakeholders to create a lively mix of tenants that will fulfill the needs of a modern market while honoring Ghirardelli's storied past," Phillips said.
Jamestown is known for restoring high profile, historic real estate for retail uses.  Chelsea Market in New York City is an upscale retail, dining and commercial complex in downtown Manhattan that was once the home of the National Biscuit Company. Tenants now include The Food Network, Google, MLB Digital Media, NBS Universal and EMI Entertainment.
In Atlanta, Jamestown is restoring a former Sears, Roebuck & Co. distribution center into Ponce City Market, a mixed-use development with office, retail and residential space.
The firm has been particularly active on the West Coast and is seeking other acquisitions in San Diego as well as in Seattle and Portland. In the Bay Area, it owns Alameda South Shore Center, a 594,000-square-foot open-air shopping center; two mixed-use properties at 22 Fourth St. and 801 Market, and 799 Market St., a 142,000-square-foot urban retail and technology-oriented office building.
In April, Jamestown acquired more than 200,000 square feet of retail and office space in downtown San Luis Obispo, Calif., from Copeland Properties, for $50.5 million. The retail assets consist of seven properties in the downtown area and include Court Street Center and Downtown Centre.