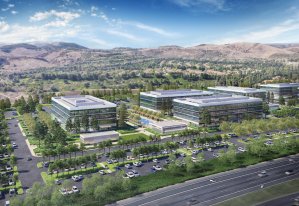 Irvine Co. has begun construction on the final, 345,000-square-foot phase of Spectrum Terrace, its 1.1 million-square-foot project in Irvine, Calif. The developer will add three more office buildings, with delivery planned for August 2022.
The Newport Beach-based developer started work on the project's first phase in 2018, with the first three buildings delivering the next year. The second phase was completed earlier this year. Spectrum Terrace's existing 693,000 square feet of office space is currently 80 percent leased.
The Class A office project's development team includes Pei Cobb Freed & Partners as lead architect, LPA Inc. as associate architect and Burton Studio as landscape architect.
Spectrum Terrace's office buildings are arranged in groups of three, situated at 17100 to 17900 Laguna Canyon Road on the southwest corner of the intersection of the Laguna Freeway and Interstate 405. The final three structures, rising four stories, will each include 115,000 square feet and have 29,000-square-foot floorplates. The developer is targeting LEED and Energy Star certifications.
The largest tenant within the completed phases is Alteryx, which leases two buildings. Other companies operating from the campus include CoStar Group, iHerb, Kajabi, RSM and TGS Management. Workers at Spectrum Terrace are within a short distance of the master-planned Irvine Spectrum Center. University of California Irvine and John Wayne Airport are less than 8 miles away.
Focusing on wellness
The 73-acre office campus was designed to enhance the live-work environment around the greater Irvine Spectrum area, with a focus on wellness. The final phase will add more outdoor amenities, such as an Olympic-length pool with cabanas and a café. Office workers have access to 33 acres of outdoor space, which includes a 1.5-mile jogging trail, multipurpose event space for up to 100 people, an indoor/outdoor fitness center and an outdoor kitchen and bar.
The construction start comes on the heels of Irvine Co.'s recent debut of its open-air office village, named Innovation Office Park, 2 miles north of Spectrum Terrace. The first phase, which includes a wide variety of outdoor amenities, totals 300,000 square feet across eight buildings.
Irvine Co. consulted with UCI Health to enhance its workspace health policies in the context of the pandemic. The developer also seeks designation from UL, a safety science company, for its office properties. Some of these enhancements include touchless entryways, improved ventilation systems, hand sanitizing stations and safety etiquette signage.
Orange County currently has 1.4 million square feet of office space under construction, CommercialEdge data shows. The only major delivery in the market so far this year was Irvine Co.'s January delivery of Spectrum Terrace's 345,000-square-foot second phase.