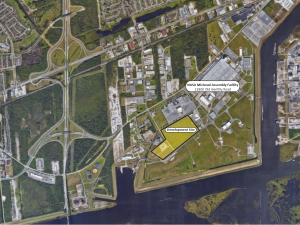 Industrial Realty Group LLC has signed a ground lease for a 50-acre development parcel within NASA's 829-acre Michoud Assembly Facility in New Orleans.
The long-term agreement at MAF—known as NASA's rocket factory and one of the largest government-owned manufacturing facilities in the world—will allow IRG to develop up to 1 million square feet of build-to-suit industrial accommodations in a series of phases.
---
READ ALSO: Top 5 Industrial Transactions in 2021
---
Home to tenants in both the government and commercial sectors, MAF features a variety of shared services and provides built-in security via a nearly 20-foot levy. IRG, no stranger to public-private partnerships or transactions with government entities, saw an opportunity to better serve needs of industrial space users at the property.
"IRG has worked with NASA and other public entities in the past with great success. We were aware of the available land on site and proposed a collaborative approach that would allow NASA's current on-site tenants and other tenants access to brand-new, custom space on the property," Michele Kiernan, senior development manager with Industrial Realty Group LLC, told Commercial Property Executive.
IRG will transform the underutilized acreage at MAF into state-of-the-art industrial space for light assembly, manufacturing, distribution and office use. The cost of the project will be determined by final user requirements and specifications. Plans for the first phase of the site development call for the construction of a 400,000-square-foot warehouse facility.
As demand dictates
IRG does not have a specific timeline for the commencement of the inaugural project at MAF; the company plans to start construction of the first facility based on market demand. "New Orleans has low vacancy with little to no new development," Kiernan said.
"This project will offer a combination of modern industrial and office space options, allowing users to expand their operations in a tight market. We have already been in discussions with a number of interested companies." As for the long term, she added, "We expect the need for quality industrial space in that market to continue to grow."
For NASA's part, the agreement with ARG gives the government entity the ability to offset a certain amount of production costs at MAF and makes use of otherwise idle space.