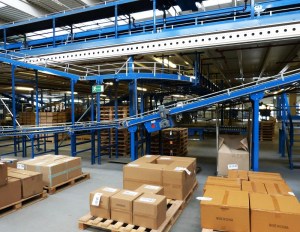 Investcorp has partnered with two leading sovereign wealth funds to form a new $550 million venture intended to acquire U.S. industrial real estate assets.
This partnership reportedly "provides the ability to acquire a critical mass of institutional-quality assets in premier logistics markets," to benefit from favorable operating fundamentals and tailwinds in the industrial sector, Investcorp said in a prepared statement. The investment vehicle will have the ability to amass about $1.6 billion of buying power.
In the statement, Herb Myers, Investcorp's co-head of real estate, North America, noted the growth of e-commerce and the rising demand for last-mile logistics.
---
READ ALSO: While Supply Chain Slows, Logistics Real Estate Moves Fast
---
No further information was released about the venture, and an Investcorp spokesperson was unable to provide additional information requested by Commercial Property Executive.
In 2014–2015, Investcorp Real Estate leadership decided to focus their real estate investments on the industrial and residential sectors, the company noted.
In October, Investcorp acquired 89 industrial properties, bumping its U.S. industrial real estate holdings to about $2.8 billion across approximately 27 million square feet in more than 385 buildings.
Opportunities and concerns
Earlier this year, Invesco conducted a survey of 141 chief investment officers and other senior executives at 82 SWFs and 59 central banks.
Overall, Invesco reported, these entities "continue to see significant opportunities in real estate, with North America and developed Europe the preferred regions for investment." Industrial is among the most-favored product types.
Nonetheless, climate change and COVID-19 are perceived as significant risks to CRE portfolios. Regarding the latter, "Many highlighted the current market conditions as a buying opportunity, prepared to ride out short-term uncertainty and often emboldened by their long-term investment horizons," Invesco said.
As to climate change, the survey found that "sovereigns are ramping up the consideration of climate risk during real estate valuations and due diligence."
Barely a year ago, the RMR Group Inc. closed a $680 million private capital investment vehicle focused on acquiring industrial and logistics properties in the U.S. The closing was facilitated by an investment from an unidentified global SWF.
Around the same time, Ventas Inc. and GIC, Singapore's SWF, formed a joint venture to develop life science properties totaling about $930 million. The initial four projects are in Philadelphia and Pittsburgh and at Arizona State University; the total of 1.4 million square feet was about 65 percent preleased at that time.