By Ioana Neamt, Associate Editor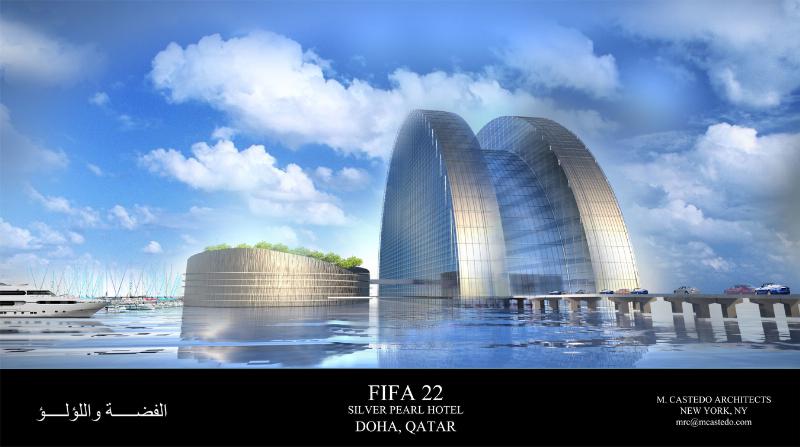 Qatar hotel developer and operator Katara Hospitality has unveiled plans for a more than 1,000-key Silver Pearl Hotel to be located one mile offshore near Doha.
The new hotel and conference/exposition center is designed by New York-based Manuel Castedo Architects, and is meant to reflect the country's rich seafaring and pearl diving history, according to a press release. The Silver Pearl represents Castedo's first project in Qatar.
The $1.6 billion Silver Pearl Hotel project will feature two semicircular 30-story towers connected through a climate-controlled atrium, as well as multiple restaurants and high-end retail spaces. The project also includes a separate conference and exposition center and a recreational landscaped roof deck above a parking facility.
The hotel will feature more than 1000 luxury rooms and suites with views of the Arabian Sea, designed to reflect the country's vast cultural heritage. At night, the building's stainless steel glass exterior will be illuminated with LEDs to create the illusion of a shimmering pearl. Architect Manuel Castedo told Doha News he spent nine months working on the design of the hotel, and describes it as "a paradise in the middle of the ocean."
Guests will be able to access the Silver Pearl location by private yacht, helicopter, or by means of an elevated causeway. The entire complex will be supported by piers to allow water to flow beneath it and ensure minimal environmental impact. According to a news release, an experienced environmental consultant will work with the developer to ensure no significant changes in the maritime environment will result from the construction of the complex, as was the case with The Palm and The World projects in Dubai.
If approved, the Silver Pearl Hotel would be developed and constructed by Katara Hospitality, which currently owns multiple properties in Qatar and abroad, such as the Sheraton Doha, Sharq Village and the Ritz-Carlton.
In 2022, Qatar will become the first Arab country to ever host the FIFA World Cup. Multiple projects are already underway in preparation for the event, including the revamping of the Khalifa International Stadium, slated for completion in 2016.