June 30, 2010
By Barbra Murray, Contributing Editor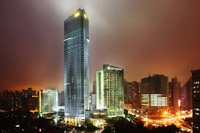 Already the largest international hotel operator in Greater China, InterContinental Hotels Group (IHG) plans to become even bigger in China — more than 50 percent bigger. The Buckinghamshire, England-headquartered company has just revealed pans to expand its 131-property portfolio in the country with the addition of 146 hotels over the next five years.
IHG entered China's hotel market with the Holiday Inn Lido in Beijing in 1984, becoming the first international hotel concern in the country. The announcement of IHG's 146-property development pipeline comes on the heels of the debut of the company's new InterContinental hotel in Nanjing and its InterContinental Shanghai Puxi in Shanghai (pictured). Additionally, IHG recently entered into a management agreement with travel company subsidiary HNA Hotels & Resorts for five hotels featuring a total 1,307 guestrooms to open between 2012 and 2015. Two of the properties will be located in Changchun, one in Haikou, another in Kunming, and one in Sifang, and they will operate under the InterContinental, Crowne Plaza or Holiday Inn brands.
Doubling its presence in China in just five years may seem extreme, but if industry forecasts are correct, IHG's plan will prove a prudent one. "China's hotel industry is proving to be a global leader by bouncing back faster than many others," Ronald Chao, Tourism Hospitality and Leisure Partner for business advisory firm Deloitte, noted in a recent Deloitte report. "Longer-term prospects look promising too, with continued economic prosperity encouraging domestic and international travel. The World Tourism Organization recently predicted that China will overtake France to become the world's largest tourist destination by 2015."
With the completion of the newly announced development portfolio in 2015, IHG will have 277 properties across China. At that point, China will have become the company's second largest operating region after the United States.