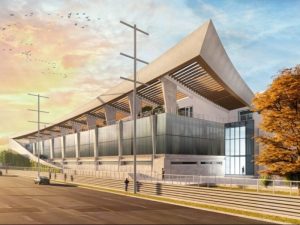 Instil Bio Inc. has secured $85 million in construction financing for the 102,000-square-foot Instil Bio Life Sciences Campus in Tarzana, Calif.
CBRE facilitated the five-year, interest-only, non-recourse loan on behalf of the developer. Instil Bio Inc. is a clinical-stage biopharmaceutical company that develops innovative cell therapies in the fight against cancer.
The property already has an operational clinical manufacturing building and the financing will help complete the commercial manufacturing facility. Upon completion, the life science campus will feature lab and office space as well as GMP manufacturing.
CBRE's Senior Vice President Greg Grant led the team that arranged the construction financing, while Executive Vice President Andrew Riley along with Vice Chairman Jeff Pion facilitated the developer's acquisition of the property in October 2020. Pion said in prepared remarks that the property will serve as Instil Bio's global manufacturing headquarters, employing hundreds of scientists and research professionals at the location, upon completion.
Located at 18404-18412 Oxnard St., the campus will be roughly half a mile north of U.S. Highway 101, providing easy access into downtown L.A. Lake Balboa/Anthony C. Beilenson Park will also be some 3 miles west.
According to a CBRE analysis, the Los Angeles-Orange County region has the second-most annual graduates in biological and biomedical sciences in the U.S., surpassed only by New York-New Jersey. The market also has the fifth-largest pool of life sciences talent in the nation.