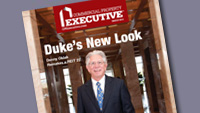 Browse the March 2012 issue of Commercial Property Executive cover to cover, or choose from the individual stories below.
---
Awards: CPE's 2012 Stars to Watch
CPE's 2012 Stars to Watch include 12 movers and shakers from different parts of the industry. This expanded online-only presentation features insights from their own learning experiences, their advice for a successful climb up the real estate ladder, plus observations from their clients, colleagues and bosses about what these rising stars bring to the table.
Finance & Investment: Going Dark: Is Net Lease Immune to Turmoil in Big-Box Retail?
Is retail a victim of the Internet and heading the way of the horse and buggy? While big-box stores have been hit hard by both technological and economic trends, net-lease players still report that closings for single-tenant properties have been muted. By Keat Foong.
Sustainability: New Life for EIFS Retrofits
While many new-wave technologies are emerging that have potential to help commercial property executives reduce building energy consumption in coming years, some older mechanisms are seeing a revival. One such alternative is exterior insulation and finish systems, or EIFS. By Brad Berton.
Economist's View: Retail Property Investing: What's It Gonna Take to Do It Right
To get through this period of economic uncertainty, it's gonna take money—patient capital; capital invested for the long haul—to do it right in the cut-throat competition of U.S. retailing and the stores sector of the property market. By Hugh F. Kelly, PhD, CRE.
Editor's Note: Topping 13,000
A presidential election year is a natural time for optimism. But, with the recovery in such a fragile state, many crucial issues may be left dangling until next January. By Suzann Silverman.
Law & Policy: Finding a Framework
The past year has presented more than its fair share of uncertainty for the industry. From a near government shutdown to a hyper-expedited presidential campaign, preparing for the impact of future policy change is no easy task. By Mike Ratliff.
Leadership & Learning: Laying the Foundation
For some years now, Brazil, Russia, India and China have offered happy hunting grounds to U.S.-based real estate companies. Despite their ups and downs, the four countries that have come to be collectively known as the "BRIC nations" have shown steadily improving transparency and sophistication in their investment, development and service markets. By Paul Rosta.
Market View: The New Era for Seniors Housing
It has taken nearly three decades, but seniors housing has surfaced as a vibrant star in the U.S. real estate universe. The foundation has been set for a new generation of seniors housing products, which will begin to emerge in the year ahead. By Mel Gamzon.
Executive Profile: Duke's New Look: Denny Oklak Remakes a REIT
The passage of time has transformed both the company and the industry, and Denny Oklak has done much to help Duke attain many of its significant milestones. Somehow, it seems fitting that an executive who exemplifies constancy is nimble enough to lead his company in a time of rapid change. By Paul Rosta.
Property Management: Smart Spending Strategies
Like most other aspects of property management, investing wisely into assets calls for a balancing act. The recession produced creative cost-saving strategies, yet many owners learned the hard way that depriving an asset of the capital needed to keep it competitive is self-defeating. By Paul Rosta.
Technology: The Evolution of Smart Buildings, Part 1: Open Source and Submetering
The concept of the smart building has been around for more than a decade, but it's still a little nebulous. We delve into two of the concepts — open-source technologies and submetering — to find out what they mean for building investors, owners and operators. By Dees Stribling.