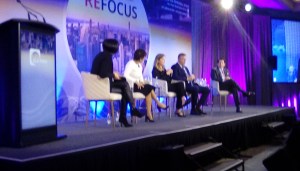 DLA Piper's Global Real Estate Summit in Chicago launched with a panel of high-powered executives discussing their views of the industry in today's unsettled, volatile economic climate.
AEW CIO Mike Byrne set the tone on Tuesday when he referred to an industry observer who a few months ago "offered to give a fear-and-greed speech," but more recently reported he could only deliver a "fear" speech. The cost of capital remaining structurally higher than what the industry has experienced recently will have an effect on every important decision, Byrne said.
Christopher Merrill, co-founder, chairman & CEO of Harrison Street, said that amid uncertainty, his firm has focused on student housing, education and health care.
---
READ ALSO: Commercial Banks Stay Competitive Yet Cautious in CRE
---
"We've had four quarters of positive absorption in senior housing," he added. "We're very bullish on the senior space. And a big area for us has been life sciences . . . The nice thing for us is if you invest in these niche strategies, you're not in main cities but really in university and medical cities. That complements traditional real estate programs."
Carly Tripp, chief investment officer for Nuveen Real Estate, said that her firm is investing in affordable housing in New York City, argued that gateway cities can't be ignored.
"The activity there has been incredible, and it's indicative of the flight to quality in gateway cities," Tripp said, citing Midtown's One Vanderbilt office tower as an example.
Office flexibility
The topic of remote work and its impact on the future of the office market spurred considerable discussion among panelists. The pandemic taught the industry that a sophisticated workforce highly values flexibility and independence, said Debra Cafaro, chairman & CEO of Ventas. "Some say two days a week is the right amount of time in the office," she added. "We need to learn from and listen to our workforce."
But Merrill wasn't buying arguments in favor of working remotely, saying that collaboration over Zoom isn't the same as in an office environment, and that younger employees who want to work from home won't know what they're missing.
"We want to get people working together," he said.  "The times we're going to see ahead are going to be tougher. And to get through them we'll need to work together."