Industrial Rents Continue to Climb at Robust Pace
Port-adjacent markets are enjoying especially strong growth, according to the latest CommercialEdge report.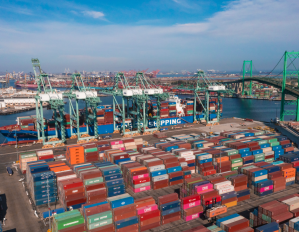 Heightened demand for industrial space continued to put upward pressure on rents, and the trend is expected to continue, the latest CommercialEdge industrial report shows. What's more, shrinking space availabilities and geographic constraints on new supply have further pushed growth forward.
---
READ ALSO: What's Next for Industrial Development
---
National in-place rents for industrial space averaged $6.88 per square foot in September, up 580 basis points year-over-year. Average in-place rents increased most in markets adjacent to ports, where developable land is scarce. Southern California markets—with the ports of Los Angeles and Long Beach nearby—had some of the highest increases of in-place rents over the past 12 months, with the Inland Empire (9.6 percent), Los Angeles (9.1 percent) and Orange County (7.1 percent) leading the way in this aspect.
On the East Coast, the New Jersey market—near the Port of New York and New Jersey—has seen rents grow 7.6 percent, according to CommercialEdge. On the other side of the spectrum, growth of in-place rents was slowest in Memphis and Houston (2.0 percent), Tampa (2.2 percent) and Chicago (2.4 percent). Nationwide, industrial market vacancy clocked in at 4.1 percent in September, unchanged from the previous month. The tightest vacancies were recorded in the Inland Empire (1.1 percent), Nashville (1.6 percent), as well as Central Valley and Columbus, both with a 1.9 percent vacancy.
No relief despite growing supply pipeline
The under-construction pipeline included 703 million square feet of industrial space at the end of September, accounting for 4.0 percent of total stock, CommercialEdge data shows. Planned projects included another 650.3 million square feet, representing 7.7 percent of total inventory. Development activity was concentrated Phoenix (44.8 million square feet, 15.1 percent of stock), Indianapolis (24.9 million square feet, 7.6 percent of stock) and Dallas-Fort Worth (61.9 million square feet, 7.3 percent of stock).
New supply in Southern California markets is unable to keep pace with demand: some 2 million square feet was underway in Los Angeles as of September (0.3 percent of stock), while Orange County had 3.3 million under construction (1.8 percent of stock). Despite its large active pipeline (34.9 million square feet and 5.1 percent of stock), the Inland Empire still can't keep up with demand, with most of the construction underway being already leased.
Read the full CommercialEdge report.