Industrial Market Pulling Ahead Despite Headwinds
Although the under-construction pipeline is ballooning, experts see the industrial market as severely undersupplied, the latest CommercialEdge report shows.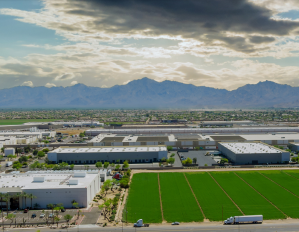 The U.S. industrial market continues to display strong fundamentals, coupled with increased consumer spending and ongoing job growth, keeping the industry resilient in the face of inflationary pressures, rising construction costs, limited availability of supplies and labor, and other headwinds. Even after Amazon—a driving force for development in recent years—announced its intention to slow down its fast-paced expansion, CommercialEdge expects construction activity to remain robust going forward.
---
READ ALSO: Industrial Capital to Remain Abundant
---
Some 640.1 million square feet of industrial space was under construction nationwide at the end of April, representing 3.7 percent of total stock. When factoring in planned projects, the pipeline amounts to 650 million square feet, or 7.7 percent of total inventory. Development activity was concentrated in Dallas (52.7 million square feet, 6.3 percent of stock), Phoenix (41.5 million square feet, 14.6 percent of stock), Inland Empire (33.6 million square feet, 5.6 percent of stock) and Indianapolis (26.2 million square feet, 8.3 percent of stock).
Rent growth continues upward trajectory
National in-place rents for industrial space averaged $6.47 per square foot in April, according to CommercialEdge. Thanks to the sector's buoyant supply-demand fundamentals, average rents increased by 440 basis points year-over-year yet remained unchanged from the prior month. Rent growth throughout the last year was led St. Louis (7.4 percent increase), followed closely by four California markets: Central Valley (7.0 percent), Los Angeles (6.6 percent), the Inland Empire (6.3 percent), and Orange County (5.7 percent). On the other side of the spectrum, Houston (1.2 percent), Columbus (2.0 percent), Memphis and Chicago (2.3 percent both) fared the worst.
Nationwide, industrial market vacancy clocked in at 5.0 percent in April, unchanged from the previous month and down 120 basis points when compared to January 2021. Coastal markets continue to have the tightest vacancies, with the Inland Empire (0.8 percent), Los Angeles (2.1 percent), New Jersey (2.8 percent), Central Valley (2.9 percent) and Miami (3.0 percent) leading the way in this aspect. Meanwhile, Midwestern logistic hubs such as Indianapolis (2.1 percent) and Columbus (2.3 percent) also posted vacancies below the 3 percent mark.
Read the full CommercialEdge report.