Indianapolis' Largest Rental Developments Completed in 2015
No fewer than 19 apartment communities were delivered in Indianapolis last year, adding more than 3,500 units to the city's rental inventory.
Indianapolis—No less than 19 large apartment communities reached completion last year, adding north of 3,500 units to the Indianapolis rental inventory, and overshadowing the metro's 2014 performance when just over 2,100 units were delivered in 14 properties.
Despite an explosion in new multifamily developments in Indianapolis, demand—particularly for downtown Indianapolis apartments—continues to outpace supply while rents per square foot of living space continue to increase. An influx of people from other states and cities is driving demand with more than 60 percent of rental apartment tenants having moved to Indianapolis from elsewhere, according to IndyStar.
Many of the area's new residents are young professionals employed by businesses—mainly tech companies—and the latest lifestyle developments target this new, affluent niche. This becomes even clearer when comparing Yardi Matrix data reflecting the current average Indianapolis rent of $771, to the average rent that apartments completed since 2010 command, which stands at $1,329. The latest large developments in Indianapolis reflect the trends. Below we take a closer look at 2015's top five apartment developments.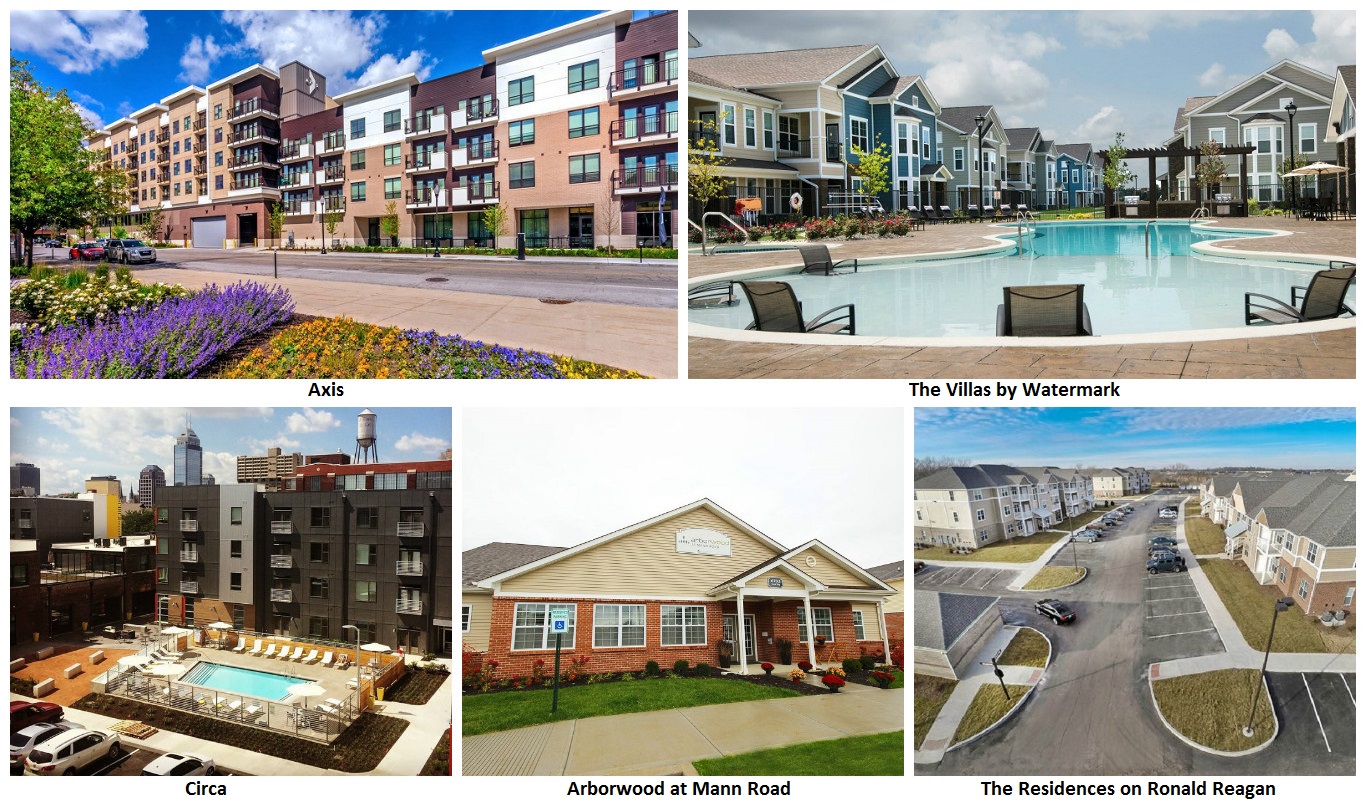 1. Axis, 336 units
The focus on singles and young couples is obvious in this 336-unit development from Flaherty & Collins Properties. The overwhelming majority of apartments have one bedroom, with less than half as many two-bedroom units balancing out the unit mix. The professional nature of the tenants is catered for with upmarket amenities such as a business center, pool and fitness center. Views over downtown Indianapolis through large windows round off the package. (Image courtesy of Axis Apartments Website)
2. The Villas, 266 units
With its 266 units comprising an equal number of one- and two-bedroom apartments plus a significant number of three-bedroom units, The Villas targets the more family-oriented resident looking for an almost suburban atmosphere. Developer Watermark Residential has recognized the modern trend towards creating a sense of community with amenities such as a clubhouse and game room, while offering the familiar pool and fitness center facilities. (Image courtesy of The Villas by Watermark Facebook Page)
3. Circa, 260 units
Milhaus Development meets downtown demand for upmarket apartments head on with its 260-unit development on North College Avenue, while making ample provision for parking–an issue that has troubled urban planners in recent years. There is a heavy emphasis on one-bedroom apartments, and some units are furnished. The pool, BBQ area and fitness center come as no surprise, but the bike rental service is an unusual touch. (Image courtesy of Circa Apartments Facebook Page)
4. Arborwood at Mann Road, 260 units
Herman & Kittle Properties has created a retro feel with its 260-unit complex of one- and two-story buildings for families that prefer low-rise buildings despite the downtown boom. Parking accommodates two- or even three-car families, and two- and three-bedroom units outnumber one-bedroom apartments. As the family market still expects a range of top-end amenities, the business center, fitness center, and pool area ensure that residents have the extras they've come to expect. (Image courtesy of Arborwood at Mann Road Facebook Page)
5. The Residences on Ronald Reagan, 252 units
Offering the convenience of a location just 10 minutes' drive from the city center while still providing low-rise suburban living, Samaritan Companies' 252-unit complex primarily consists of two- and three-bedroom apartments, along with 88 one-bedroom units. The suburban feel is reinforced with private outdoor spaces in the form of a patio or deck with each living unit. A kids' playroom among the usual amenities underlines a family-friendly focus. (Image courtesy of The Residences on Ronald Reagan Website)
To find out more about last year's largest rental developments in Indianapolis check out the complete list on the RENTCafé Blog.