In Office and Multifamily, Dealmaking Momentum Continues
Economic expansion, new household formation and a favorable capital environment boosted first-quarter transaction activity and values for these sectors.
First quarter results show that the commercial real estate transaction engine is still chugging along. Despite the length of the current expansion, valuations continue to rise in the multifamily and office sectors as engaged buyers line up to put capital to work and willing sellers continue to rebalance their portfolios. With interest rates returning to levels not seen since late 2017, financing has become more affordable and sales activity will likely remain elevated.
Multifamily continues to be the darling of the current real estate cycle as strong demand from new household formation has combined with a relatively slow recovery for the single-family construction sector. New supply has been added at roughly 300,000 units nationwide for the past few years and absorption has kept pace in most markets. The strong fundamentals have supported continued valuation increases, and the average price per unit increased to $141,384 in the first quarter of 2019―a six percent jump from the first quarter of 2018, according to Yardi Matrix.

The debt market is well balanced and well funded. The average transaction value increased 18 percent year over year in the first quarter, with the average multifamily sale totaling roughly $32 million in the first quarter of 2019. The average loan amount, however, only increased 5 percent to nearly $19 million. As a result, the average LTV dropped from roughly 66 percent in the first quarter of last year to 59 percent in this year's first quarter. Ample interest remains for multifamily investment on both the debt and equity sides of the capital stack.
Office transactions are also faring well as the economy continues to expand. Employment in office using sectors is rising, even as the unemployment rate remains at historic lows. Both wage growth and job growth for office using sectors has outpaced the national average during this cycle.
Demand for office space has driven transaction activity, and the average price per square foot nationwide increased 7 percent in the first quarter to $219, compared to the first quarter of last year. Although overall transaction volume has declined modestly over the past 4 years, valuations have steadily increased.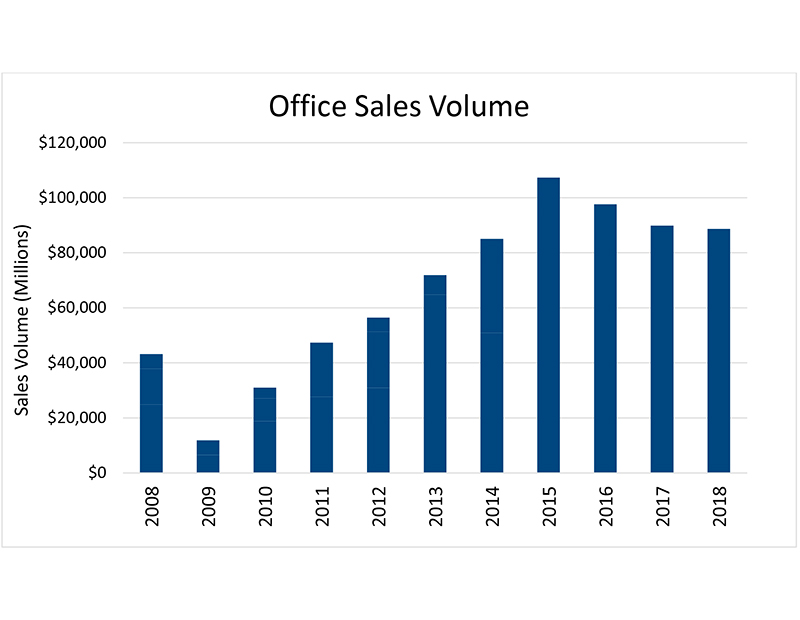 Many landlords, however, are seeing capital expenditures rise as they build out floorplans with more amenities to attract tenants. While valuations are increasing, the growth has been somewhat restricted by growing cap ex, compared to their multifamily and other asset classes.
With no imminent pitfalls in sight from both an economic and capital market standpoint, transaction activity across the multifamily and office sectors continues to move steadily forward. Safety and capital security continues to be driving demand for foreign investment, while outsized growth compared to other more conservative financial instruments keeps domestic investors active. 2019 will likely yield continued increases to commercial real estate valuations.
Chris Nebenzahl is manager of Institutional Research for Yardi Matrix.