September 2, 2011
By Barbra Murray, Contributing Editor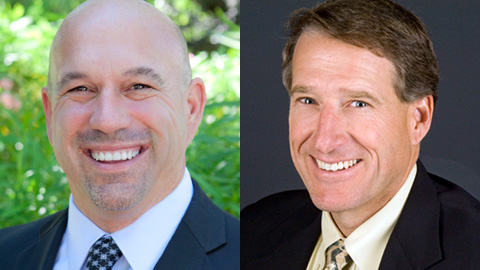 Robert Talbott and Scott Mencaccy, industry veterans and longtime friends, recently joined forces and acquired the RW Zukin Corp., a real estate services firm that has been serving the multi-family industry in the greater San Francisco Bay Area for nearly 50 years.
The real estate experts felt that the current stage of their careers and today's real estate environment provided a perfect storm for collaborating on the acquisition of their own. "Scott and I have known each other a long time in various capacities, and we both recently left large management firms where we were spending a lot of time traveling," Talbott told Commercial Property Executive. "We saw this as an opportunity to do business in our own communities regionally, so part of the decision was about quality of life."
Talbott comes to the table with a long history in the multifamily sector, having most recently partnered with Thompson | Dorfman Partners L.L.C. on the purchase of two apartment properties. At BRE Properties, Talbott occupied the position of vice president and division manager of asset management, and at Trammell Crow Residential, he carried the titles of partner and COO. Talbott's new partner, Mencaccy, also brings to RW Zukin a notable background as a leader in the real estate industry. Mencaccy served as president of Pinnacle Realty Management Co.'s west region, during which time he oversaw a 46,000-unit apartment portfolio, and also held the role of regional vice president at Con Am Management Corp.
Talbott and Mencaccy purchased Menlo, Calif.-based RW Zukin from Richard M. Alhona. As per terms of the transaction, Alhona will maintain an ownership stake in the firm and continue to help maintain the solid client relationships the firm has developed over the years. Financial details were not disclosed.
RW Zukin is well entrenched in the Bay Area market and environs, offering property management, asset management and investment management services to institutional, public and private owners of apartment buildings in metropolitan San Francisco, as well as Monterey County and the Sacramento area. Its management portfolio encompasses approximately 2,000 residential units valued at an aggregate $400 million.
It's not your typical real estate services company. The firm provides cost-effective services that benefit both the owner and resident in a manner that distinguishes the firm from the rest. Onsite, RW Zukin focuses its efforts on leasing and customer service, activities more easily facilitated by consigning accounting and purchasing tasks to the corporate office. And RW Zukin's list of coveted services is about to get longer, as the new owners hit the floor running with a growth plan in tow. Technology is high on the agenda.
"Because the company itself had a relatively basic level of technology in place when we bought it, our plan is to really start with a clean slate," Talbott explained. "We'll seek to adopt as much of that technology that makes sense."
Advancements in the world of technology over the last few years will allow Talbott and Mencaccy to achieve the aforementioned goal.
"Generally speaking, multi-family has not been at the forefront of taking on technology; it's kind of indicative of real estate as a whole. With the expansion of cloud computing, [we can achieve] cost-effective rates that are scalable to the size of our business," Talbott said.
Boosting RW Zukin's reach is also on the partners' to-do list. "In the big picture we intend to stay in Northern California and we certainly will look to expand in those markets," he said. "We may also end up in a metro area like Reno. But it will be the larger metro areas in northern California that we'll focus on, at least for now that's what's on our horizon."
In most endeavors, timing is everything, and Talbott and Mencaccy believe the current economic climate provides a prime platform for RW Zukin to increase its business. "The economy is recovering," he noted. "People who looked at keeping their management in-house because they were just hanging on–we're not seeing that now. We see people who are gathering capital and looking to expand and get ready to invest as the markets gets stronger, so we think that trend will lead to additional outsourcing for us. People will take advantage of our services."
The partners are wasting precious little time in moving RW Zukin forward. "We've found a firm that's got some very solid management principles that we're going to be able to build off of," Talbott said. "We're working with some great people and interesting clients, and so far the response from colleagues and folks we talk to has been very positive. I think our timing is going to prove to be pretty solid, as well, given that the economy is just starting to recover. We're quite excited about this opportunity and we're pretty bullish on Northern California multifamily."