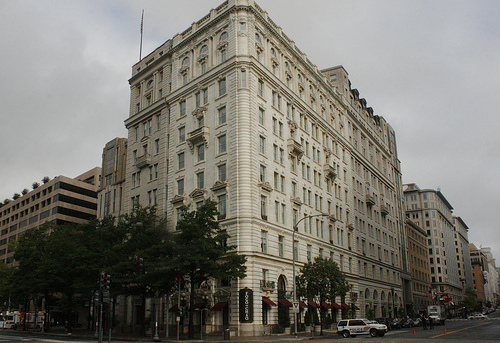 By: Paul Rosta, Senior Editor
The nation's capital continues to draw eager office buyers. On Wednesday, the giant institutional investor TIAA-CREF closed on the $180 million acquisition of the Evening Star building from KanAm Grund, the Frankfurt-based investment manager, sources familiar with the deal confirmed today.
Located at 1101 Pennsylvania Avenue NW, a few blocks from the White House and the National Mall, the fully leased 225,501-square-foot office property (pictured) was the long-time home of the newspaper known most recently as the Washington Star. The building was the newspaper's  home when it went out of business in 1981. Tenants include Citigroup Inc., International Paper Co., the Federal Bureau of Investigation, and TIAA-CREF itself.
The building's price is among the highest paid for an office property in Washington, D.C., this year, even though it hardly ranks among the city's newest office assets. Built in 1898, the Evening Star building is said to be the second-oldest building on Pennsylvania Avenue after the White House. In 1989, the property underwent expansion and renovation.
Several other high-profile office buildings in Washington have traded recently. In May, Edge Fund Advisors bought the 381,000-square-foot building at 1350 I Street NW for $209 million on behalf of several clients. Across the Potomac River in Arlington, Va., AEW Core Property Trust purchased Three Ballston Plaza in March for about $122 million. And last December, Edge paid Brookfield Properties Corp. $203.4 million for a 90 percent interest in 1625 I Street in Washington.
Sources familiar with the transaction confirmed that KanAm Grund was represented by a team from Jones Lang LaSalle Inc. , which included John Kevill, Collins Ege, Jim Molloy, Steve Collins and Sean McDermott.