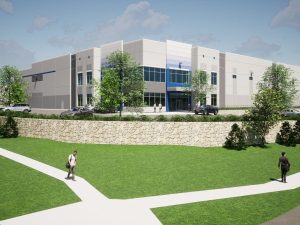 IDI Logistics is one step closer to a September groundbreaking for Sunrise Commerce Center, a two-phase development totaling 465,660 square feet of Class A industrial space in Round Rock, Texas. IDI Logistics acquired the 36-acre project site in late 2021 and expects to deliver the business park in mid-2023.
The owner selected Adolfson & Peterson Construction to develop the five speculative buildings along the Interstate 35 corridor. The project team also includes 5G Studio Collaborative serving as architect and Pacheco Koch Civil Engineering.
As of late July, 76 industrial projects totaling 10.6 million square feet were underway across metro Austin, CommercialEdge data shows. The pipeline also included nearly 32.3 million square feet of development in the permitting and planning stages.
In the first half of the year, developers in Greater Austin started work on 36 projects encompassing 6.9 million square feet, according to the same data provider. The volume of construction starts is well above the same period in 2021, when the figure showed 13 projects totaling nearly 1.2 million square feet.
The civil engineering firm also provided services for Griffin Partners' Port 45 in Wilmer, Texas. The two-building industrial park encompassing 567,516 square feet will come online near Interstate 45.
Sunrise Commerce Center
The industrial park will take shape on 36 acres at 2380 Oakmont Road. The initial phase will include three buildings encompassing 310,693 square feet, while the second addition will feature two build-to-suit projects totaling 154,967 square feet. All five facilities will have clear heights between 32 and 36 feet.
The first phase will feature rear-load buildings equipped with ESFR sprinkler systems, two 130-foot and a 185-foot truck courts, 602 car parking spaces and 64 trailer parking spaces. The second phase will include a 130-foot and a 185-foot truck court, 353 vehicle parking spaces and 30 trailer parking spaces.
IDI Logistics selected Stream Realty Partners to market Sunrise Commerce Center. The leasing team includes Stream Managing Director & Partner Sam Owen and Executive Managing Director & Partner Will Nichols.
Sunrise Commerce Center will be less than 2 miles from Interstate 35, less than 30 miles from Austin-Bergstrom International Airport and some 24 miles from downtown Austin.