By Barbra Murray, Contributing Editor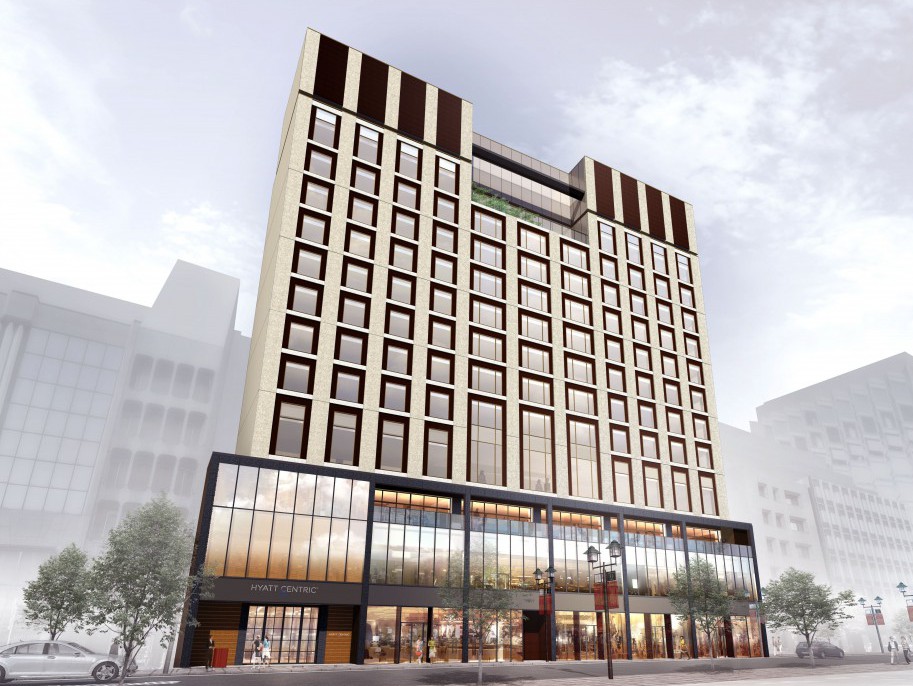 Chicago—Hyatt Hotels Corp. is really putting its heart into Hyatt Centric, one of its newest brands. The hotel giant just announced that it will expand the millennial-focused portfolio to nearly twice its current 14-property size by the close of 2019.
The Centric brand caters to today's twenty- and thirty-somethings in the upper-upscale lifestyle segment who seek adventure in their travels, starting with their lodging accommodations. "We know our Hyatt Centric guests are eager to explore the world's best destinations and be in the middle of the action," Sandra Cordova Micek, senior vice president, global brands for Hyatt Hotels Corp., said in a prepared statement. "Each of these new hotels will deliver on that desire, serving as launch pads for exploration in cities around the world."
Hyatt's expansion plan for the full-service lifestyle brand will include both new-build and existing properties across the globe. Debuting this year will be the 71-room Hyatt Centric La Rosière in Montvalezan, France, which will mark Hyatt's first ski resort in the French Alps, and the Hyatt Centric Istanbul in Turkey, which will continue to operate as the 51-room Hotel Levent until its rebranding.
The years 2018 and 2019 will yield additional locations across the U.S., including Boston, Fort Lauderdale, Mountain View, Calif., and another property in Manhattan. Beyond U.S. borders, the Centric flag will begin to fly in Australia, the Caribbean, China and the U.A.E. Centric's first new-build hotel in Asia Pacific, the 164-room Hyatt Centric Ginza Tokyo, will welcome its first guests early next year, occupying 10 floors of a 12-story commercial building.
It's an aggressive expansion plan, but not necessarily in Hyatt keys. "Most of the new Hyatt Centric properties were previously Hyatt branded, so the growth is growth for the Hyatt Centric brand but not growth for the overall Hyatt portfolio," Michael Bellisario, vice president with financial services firm R.W. Baird & Co., told Commercial Property Executive.
In the two years since Hyatt launched Centric, the company has opened 13 hotels in the U.S., including properties in such hotspots as Times Square in New York City, New Orleans' French Quarter and Key West, Fla., as well as in resort destinations like Waikiki and Park City, Utah. Currently, but not for long, the only international locale is Hyatt Centric Montevideo in Uruguay. The mushrooming of the Centric brand dovetails with Hyatt's three-pronged "growth with focus" message, as outlined in its November 2016 investor day presentation, which highlights "increasingly brand-led and experience driven" expansion.
"Having another brand, like Hyatt Centric, that focuses on different customers and their preferences is a good thing when trying to capture market share," Bellsario said. However, there's always the possibility of growing pains. "The Hyatt Centric concept is still evolving because a lot of the recently converted Hyatt Centric properties were not developed with the Hyatt Centric concept in mind; we'll have to see the 2018 and 2019 deliveries to get a better sense for the lifestyle features of the brand and how it will be differentiated from the Hyatt brand," he added.
And there's more to consider, according to Bellisario. "If Hyatt is converting Hyatt branded properties to Hyatt Centric, and new Hyatt Centric properties are opening through 2019, what will eventually happen to the just plain Hyatt brand?"
Rendering courtesy of Hyatt