By IvyLee Rosario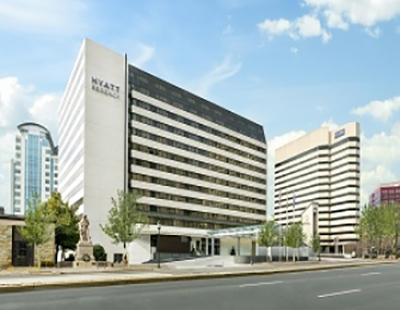 Hyatt Regency Bethesda has completed its $37 million renovation. Owned by The Meridian Group, the property underwent upgrades to its 390 guestrooms, lobby, facade, as well as event and meeting spaces. The renovation also brought The Rooftop Downtown Bethesda, a 2,400-square-foot venue crowning the hotel. In late spring, the hotel will host an official celebration and introduce new retail offerings, including one of the tristate area's largest Starbucks at 2,600 square feet.
Located at 7402 Wisconsin Ave., Hyatt Regency Bethesda collaborated with Gensler for the transformation, incorporating contemporary design with wood accents and a neutral palette. The new facade features modern architecture and an upgraded porte-cochere. The lobby now includes a technology-enabled mobile check-in with complementary beverages at a refresh station. The 12-story lobby atrium stayed true to the original design by architect John Portman, but was brightened and features American black walnut accents, stone flooring, a glass elevator, topography-inspired custom carpets and arabesques' marble elements. The lobby also features "Make Space," a work and play area that features communal workstations, a quiet space with light music, interactive touch screens for guest use, as well as an area to host mid-day events and cocktail receptions. 
"Inspired by the natural landscape of the nearby Potomac River, the renovation respects the original architectural design while providing a remarkable transformation," said Carolyn Ament, design director at Gensler, in prepared remarks. "Using a combination of natural materials, lighting and comfortable, residential-style furnishings, the new design provides a welcoming atmosphere for an enhanced guest experience."
Amenity Additions 
All guestrooms, including the Governor's and Presidential Suite were updated to include a modern color scheme and sound-proofing, as well as custom-designed furniture, spacious bathrooms, in-room technology, complimentary Wi-Fi and a vanity mirror that showcases the time and temperature. Also added to the hotel were PURE rooms, which are allergy friendly and undergo a seven-step purification process removing up to 99 percent of pollutants and irritants in the room. 
The new hotel now offers more than 20,000 square feet of meeting and event space, as well as The Rooftop Downtown Bethesda. The new rooftop space comprises 2,400 square feet and includes floor-to-ceiling windows with views of downtown and Washington, D.C. The venue can accommodate up to 180 guests at a reception, 120 for a sit-down dinner and 90 people for a corporate meeting. The 16-foot high ballroom has also been updated and can expand to 7,200 square feet, able to accommodate 550 guests. 
Hyatt Regency Bethesda also includes a 24-hour StayFit fitness and health club, which features state-of-the-art equipment, HD televisions, yoga mats and complimentary cold towels and water bottles. 
Last month, a joint venture between Ellis Partners and Intercontinental Real Estate Corp. began construction on The Key at 12th, a Class A office development in Oakland, Calif., also designed by Gensler. 
Image courtesy of Hyatt Regency Bethesda