By Paul Fiorilla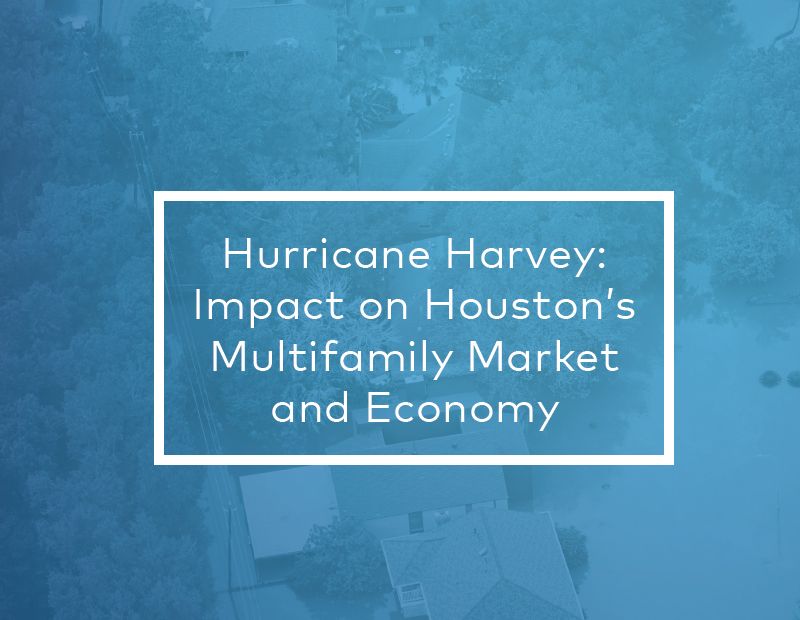 Hurricane Harvey slammed into Houston on August 25 and dropped more than 50 inches of rain over the next few days, producing a swath of flooding in low-lying developments and areas near rivers, lakes and reservoirs. The flooding damaged tens of thousands of single-family residences and apartments, commercial properties, vehicles and infrastructure. The storm might end up as the most expensive natural disaster in U.S. history, with property damage estimates upwards of $100 billion.
Although a full assessment of Harvey's impact on commercial real estate will take many weeks or even months, an initial analysis by Yardi Matrix found that the damage to multifamily properties was less than what could have transpired given the record rainfall. Further, Harvey's aftereffects will provide a boost to fundamentals in the short term, as demand for living space from residents displaced by the storm will boost multifamily occupancies. Our findings include:
Houston's multifamily universe consists of 616,000 units, roughly 157,000 of which are in areas identified as flood zones. Damage to units in flood zones was much higher than in non-flood zones.
We estimate that between 45,000 and 72,000 units—or 7-11 percent of the multifamily universe—were rendered uninhabitable.
Apartment fundamentals in Houston, which have been the worst in the nation over the past 18 months, will improve dramatically in the near term. Houston's pre-Harvey occupancy rate of 93.1 percent is the lowest among major metros, and rent growth has been negative for the last 12 months.
We expect the occupancy rate to rise sharply and rent growth to turn moderately positive in the near term.
Read the full Hurricane Harvey Special Report